Concept, Philosophy and Indication of Functional Endoscopic Sinus Surgery
Retno Sulistyo Wardani

Division of Rhinology, National Central General Hospital Dr. Cipto Mangunkusumo
Keywords:
Rhinology, Lateral nasal wall anatomy, Innate immunity
Abstract
The concept and Philosophy of Functional Endoscopic Sinus Surgery (FESS) need to disseminate in the era of evidence-based medicine and technology development. Following lifelong learning, the previous indication of FESS as a surgical intervention of chronic rhinosinusitis not response to appropriate medical treatment, broaden into other indications of congenital anomaly, degenerative, infectious, inflammation, neoplasm, trauma even endocrine-underlying diseases. This literature review explains updated understanding from an immunological point of view related to FESS management for the integrity of the sinonasal barrier and further deeper and more specific literature reviews. Fourteen published manuscripts were selected based on FESS's historical aspect, scientific philosophy, and applied life analogy for good deeds. Maintaining, preserving, and restoring the function of the nose and paranasal sinuses achieved through irrigation and hydration using physiologic saline solution and good sleep hygiene and quality. Surgical intervention of FESS in chronic mucosal inflammation may treat nasal dysbiosis by increasing the microbiome diversity and stability of Corynebacterium and Dolosigranulum. The competence of a skillful ENT Specialist and Surgeon in FESS needs a deeper understanding of anatomy, anatomy, and anatomy. Recommendation for Rhinology Consultant and Surgeon is adding interest and competence in immunology.
Downloads
Download data is not yet available.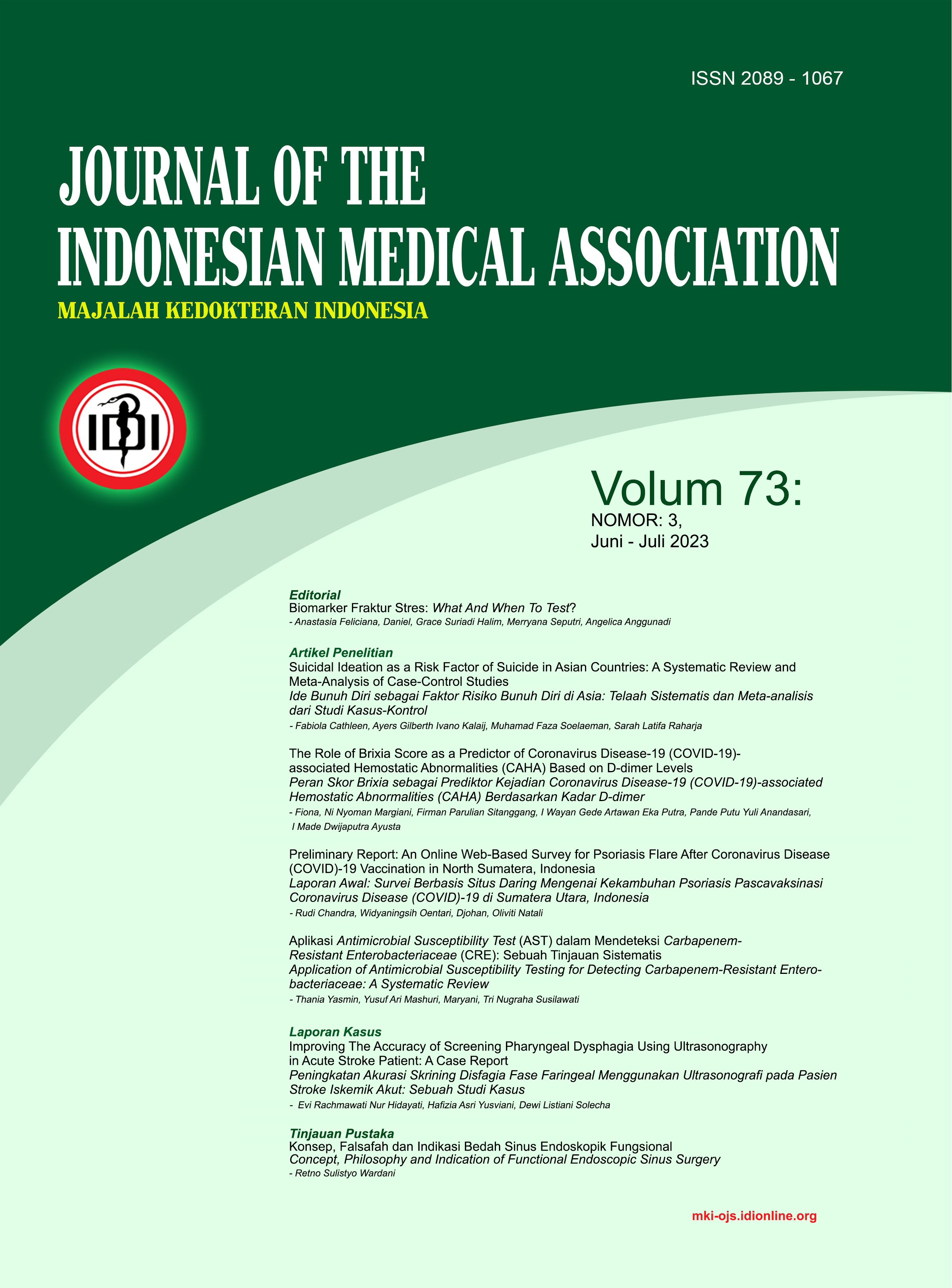 How to Cite
Wardani, R. S. (2023). Concept, Philosophy and Indication of Functional Endoscopic Sinus Surgery. Journal Of The Indonesian Medical Association, 73(3), 155 - 161. https://doi.org/10.47830/jinma-vol.73.3-2023-994