Preliminary Report: An Online Web-Based Survey for Psoriasis Flare After Coronavirus Disease (COVID)-19 Vaccination in North Sumatera, Indonesia
Rudi Chandra

Faculty of Medicine, Universitas Prima Indonesia, Medan, Sumatera Utara, Indonesia

https://orcid.org/0000-0002-7662-1036

Widyaningsih Oentari

Faculty of Medicine, Universitas Prima Indonesia, Medan, Sumatera Utara, Indonesia

Djohan Djohan

Faculty of Medicine, Universitas Prima Indonesia, Medan, Sumatera Utara, Indonesia

Oliviti Natali

Faculty of Medicine, Universitas Prima Indonesia, Medan, Sumatera Utara, Indonesia
Keywords:
COVID-19, Vaccination, Psoriasis
Abstract
Introduction: Psoriasis is a chronic inflammatory skin disorder that is often associated with autoimmune conditions. Vaccination has been considered one of the external factors that can trigger psoriasis flare. Recently, there have been reports linking the COVID-19 vaccine to the occurrence of psoriasis flare. The objective of this study was to examine the impact of COVID-19 vaccination on the incidence of psoriasis flares in Indonesia.
Methods: This web-based cross-sectional study utilized Google forms and was conducted from September 2020 to February 2021 in North Sumatera, Indonesia. The study included psoriasis patients aged >18 years who had received COVID-19 vaccines. Data were collected and analyzed descriptively.
Result: Out of 130 respondents, most were women (60.8%) aged 26-35 years (33.1%) with a disease duration of 1-10 years (48.5%). The most common type of psoriasis before vaccination was plaque and scalp (20.4%). Approximately 80% had no history of COVID-19 infection prior to vaccination, and 71.5% received the Sinovac vaccine. Among them, 49 respondents (37.7%) experienced flares after vaccination, mainly following the first dose (57.1%) and predominantly with Sinovac (77.6%). Flares were more common in women (67.3%) aged 26-35 years (28.6%) with disease duration of 1-10 years (59.2%). Most flares occurred <2 weeks after vaccination (51%), and the post-vaccination type of psoriasis was frequently plaque and scalp (24.5%).
Conclusion: The incidence of psoriasis flares after COVID-19 vaccinations was 37.7%. The administration of COVID-19 vaccinations may play role as a potential trigger for flares in psoriasis patients.
Downloads
Download data is not yet available.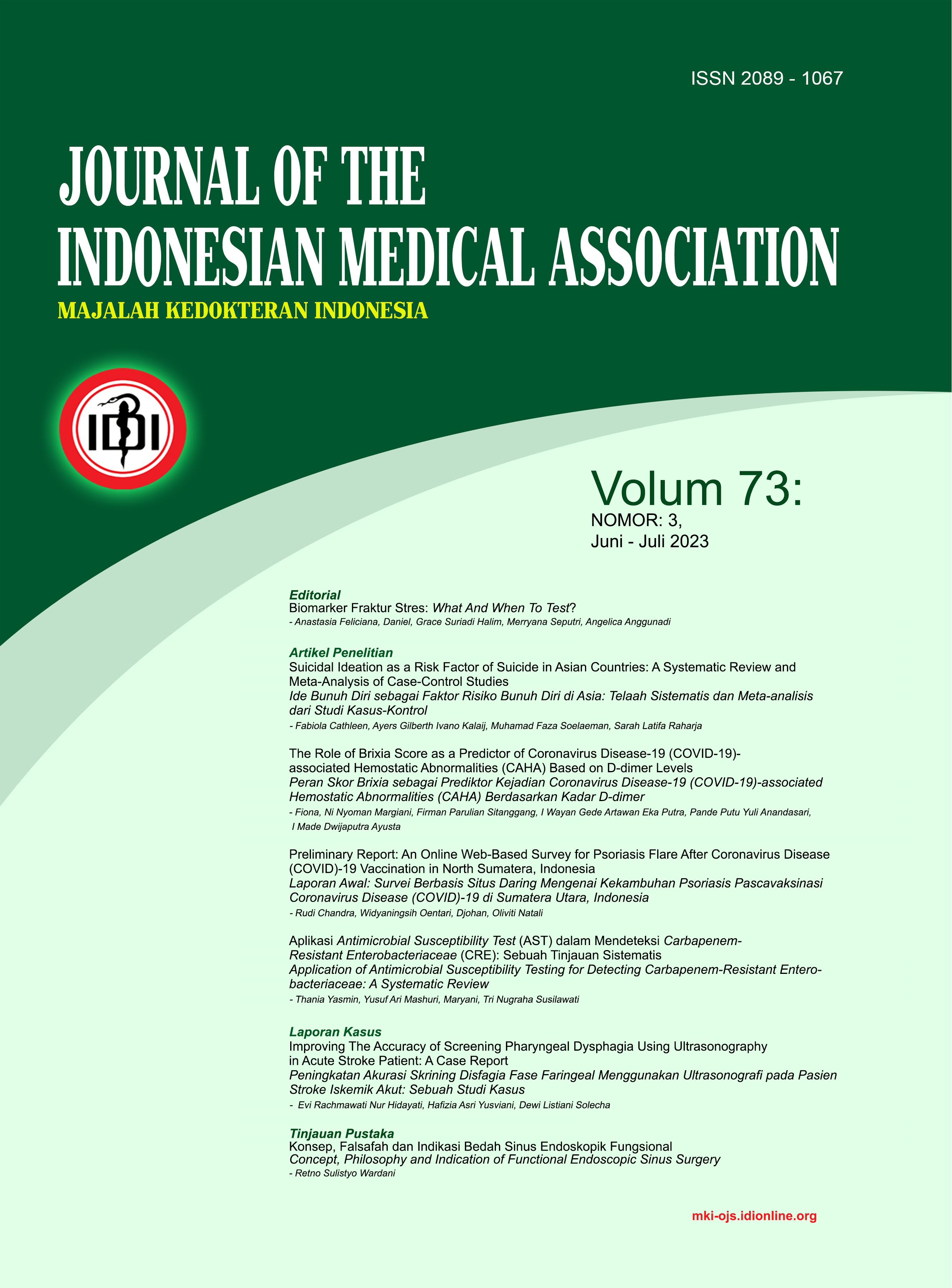 How to Cite
Chandra, R., Oentari, W., Djohan, D., & Natali, O. (2023). Preliminary Report: An Online Web-Based Survey for Psoriasis Flare After Coronavirus Disease (COVID)-19 Vaccination in North Sumatera, Indonesia. Journal Of The Indonesian Medical Association, 73(3), 132 - 139. https://doi.org/10.47830/jinma-vol.73.3-2023-972