Factors Influencing Good Response of Methotrexate Treatment in Rheumatoid Arthritis Patients
Fara Fauzia

Post graduate program, Department of Epidemiology, Faculty of Public Health, Universitas Indonesia

Nurhayati Adnan Prihartono

Post graduate program, Department of Epidemiology, Faculty of Public Health, Universitas Indonesia

Rudy Hidayat

Division of Rheumatology, Department of Internal Medicine, Faculty of Medicine, Universitas Indonesia /Cipto Mangunkusumo Hospital
Keywords:
Rheumatoid Arthritis, Methotrexate, Therapy
Abstract
Rheumatoid arthritis (RA) is a systemic and chronic autoimmune disease with joint manifestations. Delays in RA treatment will pose a risk of permanent joint damage and increased mortality risk. Diagnosis as early as possible, followed by appropriate therapy, will prevent various complications due to RA, aiming to achieve a condition of remission or minimal low disease activity. The treatment choice for RA is currently a group of disease-modifying anti-rheumatic drugs (DMARDs), with methotrexate (MTX) as the first choice. Various studies have reported various factors that play a role in the success of MTX treatment, including younger age, male sex, normal body mass index, not smoking, early treatment, number of joints involved, inflammatory factors (LED/CRP) and negative serological factors (RF/anti-CCP).
Downloads
Download data is not yet available.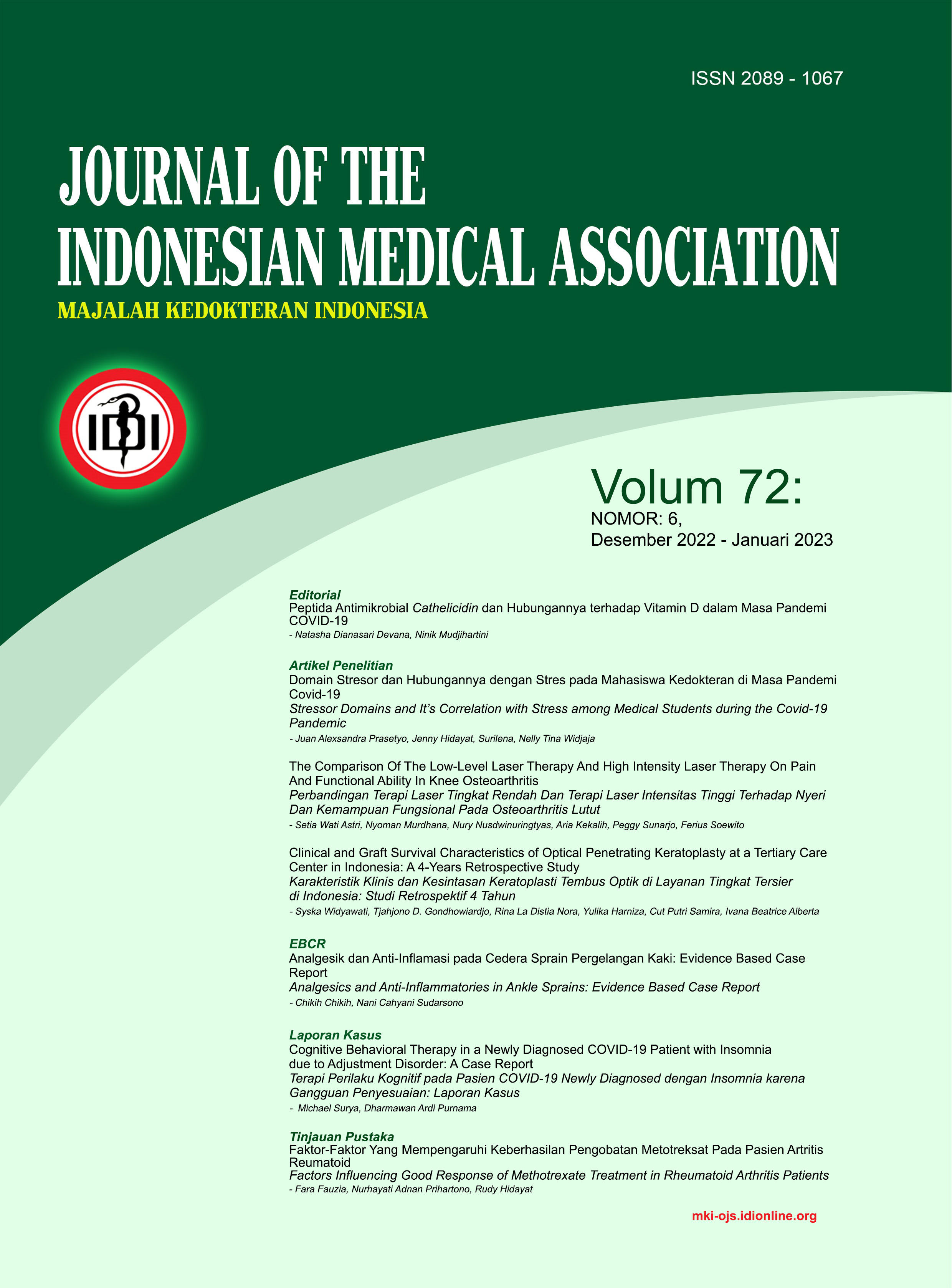 How to Cite
Fauzia, F., Prihartono, N. A., & Hidayat, R. (2023). Factors Influencing Good Response of Methotrexate Treatment in Rheumatoid Arthritis Patients. Journal Of The Indonesian Medical Association, 72(6), 302 - 308. https://doi.org/10.47830/jinma-vol.72.6-2022-850