Comparison of Regular Rehabilitation Program with Additional Reciting Holy Qur'an on Cardiorespiratory Fitness among Covid-19 Survivors
Rita Vivera Pane

Department of Physical Medicine and Rehabilitation, Faculty of Medicine, University Nahdlatul Ulama of Surabaya, Surabaya, Indonesia

Adyan Donastin

Department of Pulmonology and Respiratory, Faculty of Medicine, University Nahdlatul Ulama of Surabaya, Surabaya, Indonesia

Aufar Zimamuz Zaman Al Hajiri

Faculty of Medicine, University Nahdlatul Ulama of Surabaya, Surabaya, Indonesia

https://orcid.org/0000-0003-2302-1640
Keywords:
Holy Qur'an, Covid-19, Cardio-pulmonary Fitness
Abstract
Introduction: Rehabilitation program has been proven to be able to restore the cardiorespiratory function of Covid-19 survivors. Reciting Holy Qur'an are associated with a more relaxed and lowered heart rate of the reciter. The present study aims to compare the regular rehabilitation program with addition of Reciting Holy Qur'an on cardiorespiratory fitness among moslem Covid-19 survivors.
Method: This quantitative experimental study involved 18 moslem patients who were assigned into two groups. Eight patients in the interventional group received additional Qur'an recitation every day at least 20 pages, divided into several sessions according to the participants' ability and opportunity. Meanwhile, ten patients in the control group received regular rehabilitation programs with mild to moderate intensity. The cardiorespiratory fitness level was evaluated by a count test (CT), incentive spirometry test (IST), and a 6-minute walk test (6MWT). The measurement was performed three times: before intervention, the first week, and the second week after treatment.
Result: The participants were eight males and ten females with an age average of 51.9 ± 9.5 years. Both groups showed significant differences before and after treatment in the first and second week in terms of CT, IST, and 6MWT (p <0.05). There was a significant difference between the two groups in the first week in the IST result (p < 0.05), no significant difference in the second week was noticed.
Conclusion: The Covid-19 survivors receiving additional Holy Qur'an recitation exhibit faster cardiorespiratory fitness improvement than the control group.
Downloads
Download data is not yet available.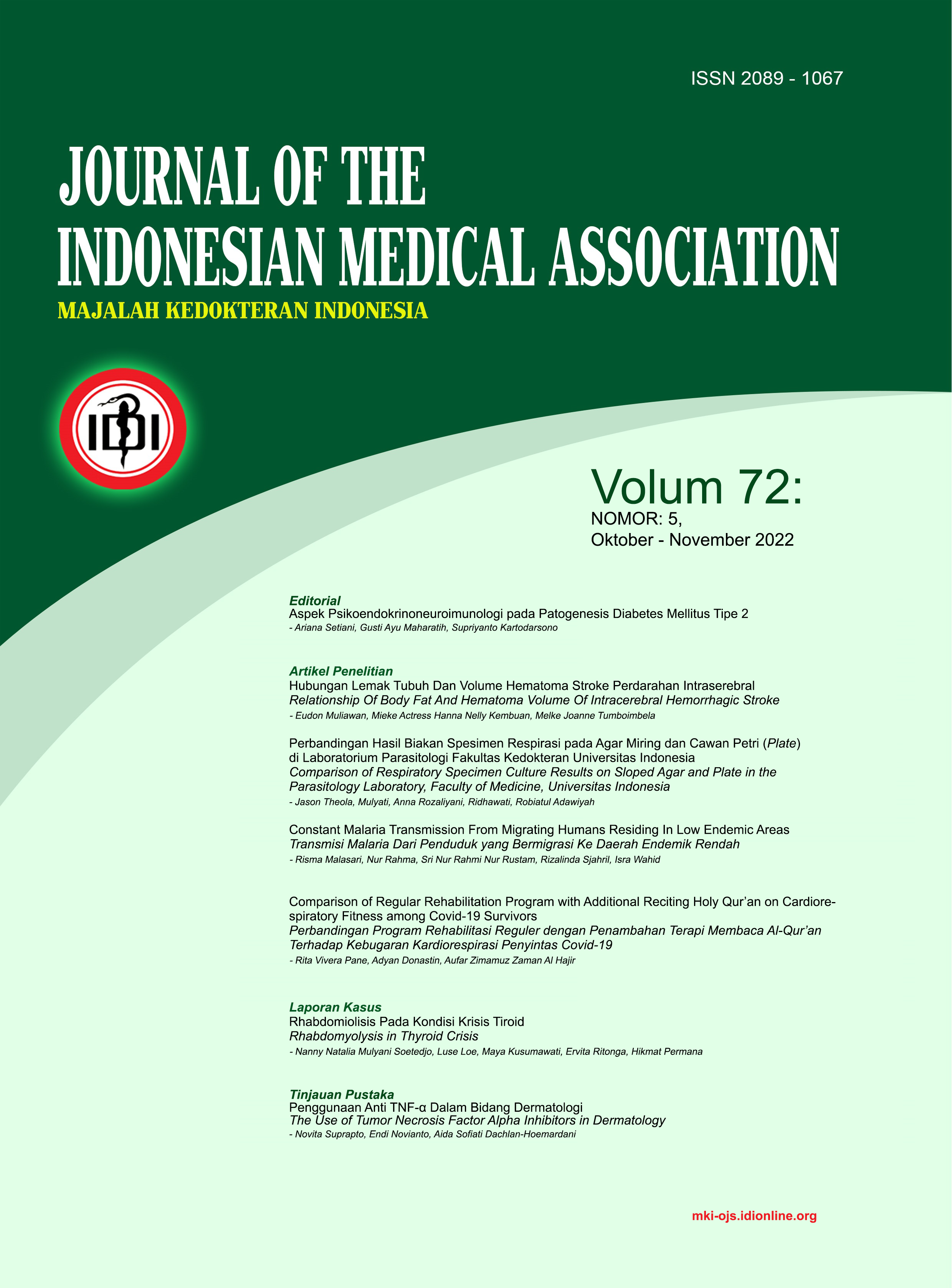 How to Cite
Pane, R. V., Donastin, A., & Al Hajiri, A. Z. Z. (2022). Comparison of Regular Rehabilitation Program with Additional Reciting Holy Qur'an on Cardiorespiratory Fitness among Covid-19 Survivors. Journal Of The Indonesian Medical Association, 72(5), 233 - 238. https://doi.org/10.47830/jinma-vol.72.5-2022-812