Clinical and Graft Survival Characteristics of Optical Penetrating Keratoplasty at a Tertiary Care Center in Indonesia: A 4-Years Retrospective Study
Syska Widyawati

Division of Corneal and Refractive Surgery, Department of Ophthalmology, Cipto Mangunkusumo Hospital, Kirana, Jakarta

Tjahjono D. Gondhowiardjo

Division of Corneal and Refractive Surgery, Department of Ophthalmology, Cipto Mangunkusumo Hospital, Kirana, Jakarta

Rina La Distia Nora

Division of External Eye Disease, Department of Ophthalmology, Cipto Mangunkusumo Hospital, Kirana, Jakarta

Yulika Harniza

Department of Ophthalmology, Cipto Mangunkusumo Hospital, Kirana, Jakarta

Cut Putri Samira

Department of Ophthalmology, Cipto Mangunkusumo Hospital, Kirana, Jakarta

Ivana Beatrice Alberta

Department of Ophthalmology, Cipto Mangunkusumo Hospital, Kirana, Jakarta
Keywords:
Graft rejection, Graft survival, Kaplan Meier survival analysis, Penetrating keratoplast
Abstract
Introduction: Purpose, to evaluate patient demographic characteristics, indications and variables related to penetrating keratoplasty (PK) survival. Study design, this study was retrospective case series.
Methods: We trace all medical records of PK patients from 2015 to 2018 in Cipto Mangunkusumo Hospital Jakarta. The traced variables were indications of surgery, corneal vascularization, previous failed graft, glaucoma after PK, and other complication. PK survival rate is shown in the Kaplan Meier curve using SPSS v20.0.
Results: A total of 214 patients underwent PK (men 67.3%, woman 32,7%) with mean age of 42.11 (0-85) years were included in this study. Three most common indications of keratoplasty were corneal scar (32.7%), infectious corneal ulcer (25.5%), and failed graft (19.2%). The overall graft survival rate for PK is 61.7%. The mean graft survival time was 14.388 ± 0.580 months (95% CI; 13.252-15.524).
Conclusion: The graft survival rate for penetrating optic keratoplasty was 61.7%. Establishing an appropriate early diagnosis, reasonable surgical procedures, close monitoring, and early detection of complications with proactive interventions lead to better outcomes. Further research is needed to determine the relationship between the risk factors for corneal graft failure.
Downloads
Download data is not yet available.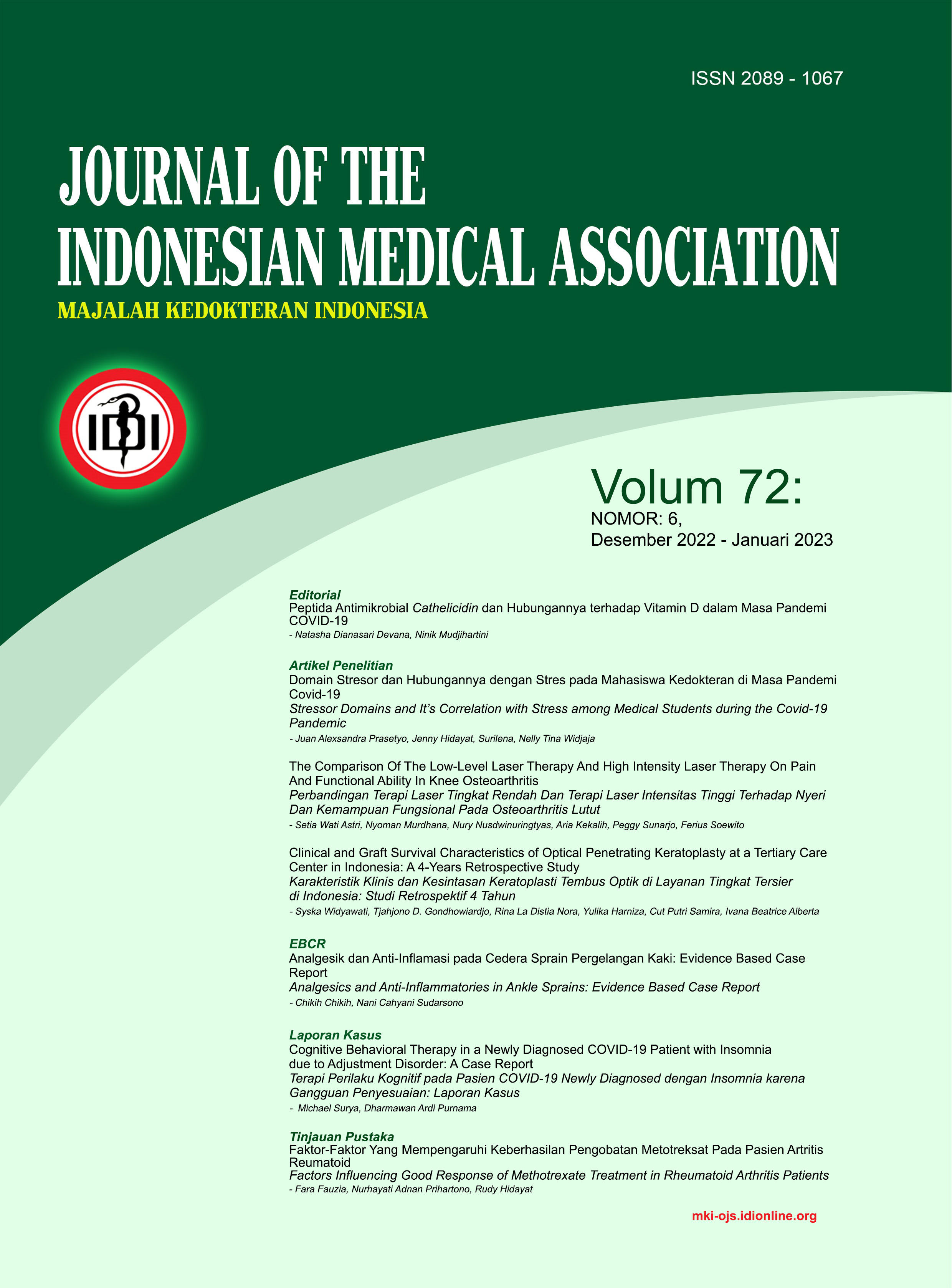 How to Cite
Widyawati, S., Gondhowiardjo, T. D., Nora, R. L. D., Harniza, Y., Samira, C. P., & Alberta, I. B. (2023). Clinical and Graft Survival Characteristics of Optical Penetrating Keratoplasty at a Tertiary Care Center in Indonesia: A 4-Years Retrospective Study . Journal Of The Indonesian Medical Association, 72(6), 284 - 290. https://doi.org/10.47830/jinma-vol.72.6-2022-785