The Incidence of Positive Visual Inspection of Acetic Acid in Dr Cipto Mangunkusumo General Hospital Followed by Liquid Based Cytology, HPV testing and Colposcopy: A Cross Sectional Study
Junita Indarti

Social Obstetrics and Gynecology Consultant, Faculty of Medicine Universitas Indonesia, Cipto Mangunkusumo General Hospital

Heru Prasetyo

Obstetrics and Gynecology Resident, Faculty of Medicine Universitas Indonesia, Cipto Mangunkusumo General Hospital

Kristian Alda

Obstetrics and Gynecology Resident, Faculty of Medicine Universitas Indonesia, Cipto Mangunkusumo General Hospital
Keywords:
Cervical cancer, screening, visual inspection after acetic acid, VIA, Colposcopy
Abstract
Introduction : Cervical cancer is most common cancer in women in Asia Oceania and worldwide. VIA(Visual Inspection after Acetic acid) is being used as an alternative in low- and middle-income countries due to the minimal equipment required. Data from recent systematic reviews and multicentre trials show that VIA to be moderately sensitive for precancerous lesions, as compared with Pap testing. This study aim to determine the incidence of positive VIA, LBC, HPV DNA testing and colposcopy findings obtained from positive VIA cases in Dr. Cipto Mangunkusumo General Hospital.
Methods: This was a cross-sectional study. Data was collected from cervical cancer screening by VIA examination at Dr. Cipto Mangunkusumo General Hospital, Jakarta, Indonesia in 2017. Age, VIA results were recorded. The results showed abnormal and predictive cancer lesions (acetowhite lesion) were defined as a "positive test." The positive VIA result followed by LBC, HPV DNA testing, and Colposcopy. Only 25 performed LBC and HPV DNA test, and 30 of the VIA positive were performed Colposcopy.
Results: A total of 1.960 subjects were recruited for this study. The mean age of the subjects was 34.5 years, and 908 (46 %) subjects belong to the 30-40 years age group. Negative VIA result were found in 1893 subjects (96,58%) and 67 subjects (3,42%) had positive results. From 25 VIA positive subject whose gone through LBC and HPV test, 9 subjects (36%) had abnormal LBC, 3 subjects (12%) had positive HPV DNA test. From 30 positive VIA whose got colposcopy examination 17 subjects (56,6 %) had abnormal colposcopy.
Conclusions: The number of VIA screening participants in RSCM, Jakarta, Indonesia with positive VIA results is low. Further studies regarding the validation of VIA are required to evaluate its diagnostic value.
Downloads
Download data is not yet available.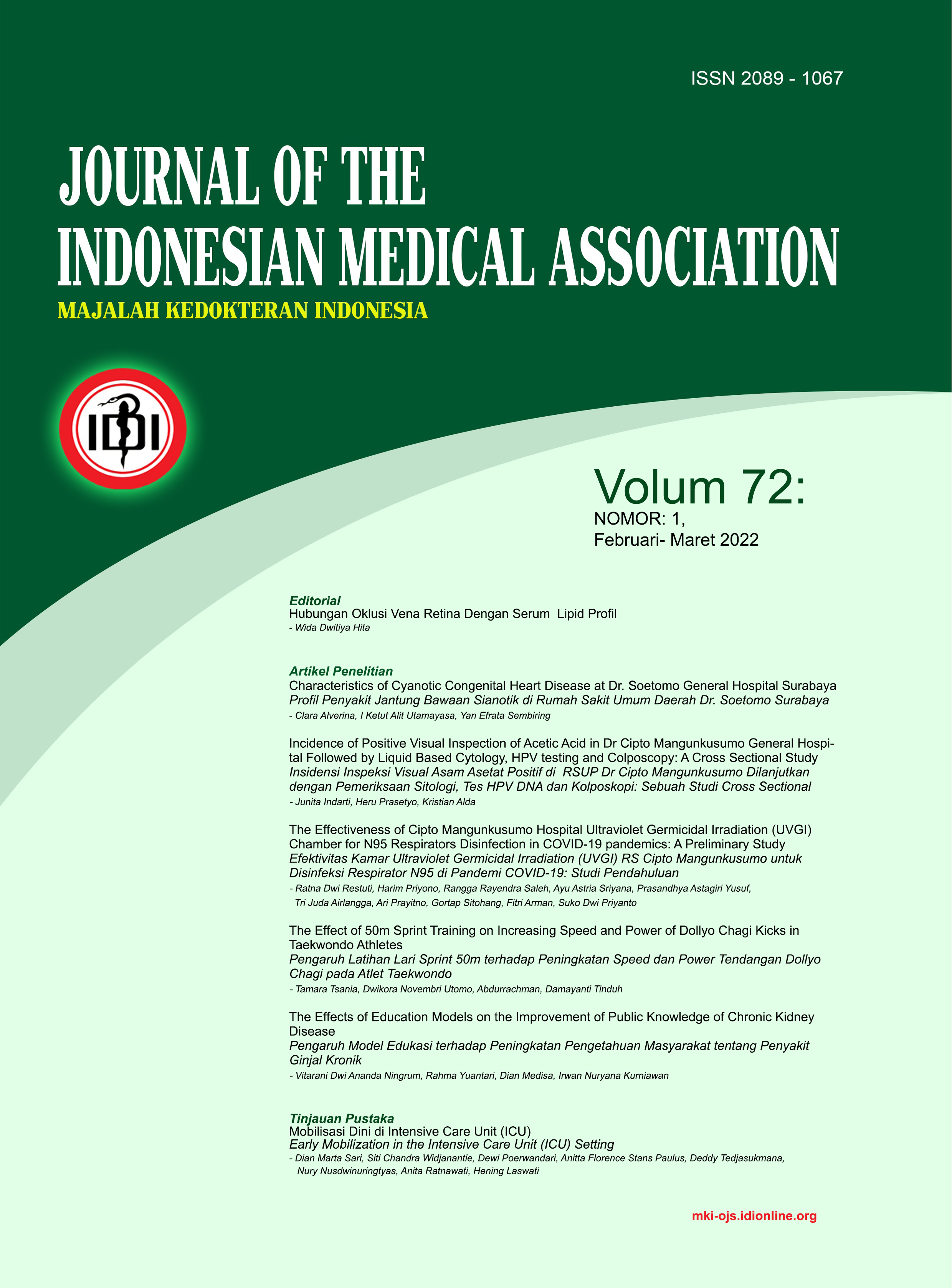 How to Cite
Indarti, J., Prasetyo, H., & Alda, K. (2022). The Incidence of Positive Visual Inspection of Acetic Acid in Dr Cipto Mangunkusumo General Hospital Followed by Liquid Based Cytology, HPV testing and Colposcopy: A Cross Sectional Study . Journal Of The Indonesian Medical Association, 72(1), 11 - 15. https://doi.org/10.47830/jinma-vol.72.1-2022-750