Improving The Accuracy of Screening Pharyngeal Dysphagia Using Ultrasonography in Acute Stroke Patient: A Case Report
Evi Rachmawati Nur Hidayati

Physical and Medical Rehabilitation Unit, Universitas Indonesia Hospital, Universitas Indonesia, Depok, Indonesia

Hafizia Asri Yusviani

Physical and Medical Rehabilitation Unit, Universitas Indonesia Hospital, Universitas Indonesia, Depok, Indonesia

Dewi Listiani Solecha

Physical and Medical Rehabilitation Unit, Universitas Indonesia Hospital, Universitas Indonesia, Depok, Indonesia
Keywords:
Dysphagia, pharyngeal dysphagia, Gugging Swallowing Screen, ultrasonography
Abstract
Introduction: Dysphagia is a common complication in acute stroke patients that require early screening to reduce the risk of aspiration pneumonia, disability, and mortality. Bedside examinations such as the Gugging Swallowing Screen (GUSS) test and ultrasonography are non-invasive methods that may improve early diagnosis of dysphagia after stroke.
Case Report: We report a 49-year-old man with a history of cerebrovascular event that had difficulty swallowing, followed by coughing and choking after drinking.
Discussion Case: The GUSS score indicated moderate dysphagia with a high risk of aspiration. The swallowing ultrasonography showed conformity to the GUSS score and improved the screening accuracy for silent aspiration risk in the pharyngeal swallowing phase.
Conclusion: In conclusion, ultrasonography examination may improve the screening accuracy of the GUSS test, particularly for the detection of silent aspiration in pharyngeal dysphagia.
Downloads
Download data is not yet available.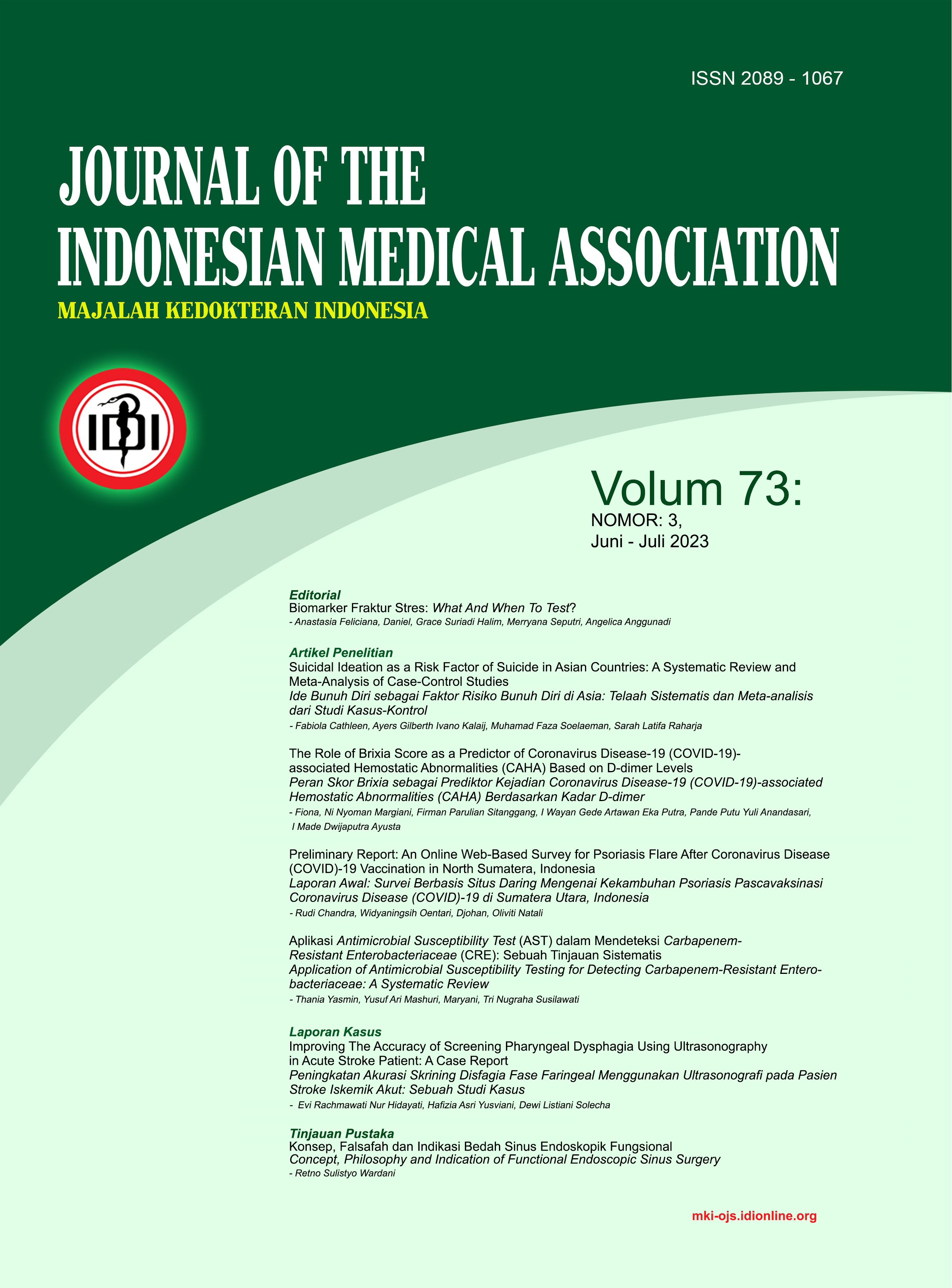 How to Cite
Hidayati, E. R. N., Yusviani, H. A., & Solecha, D. L. (2023). Improving The Accuracy of Screening Pharyngeal Dysphagia Using Ultrasonography in Acute Stroke Patient: A Case Report. Journal Of The Indonesian Medical Association, 73(3), 149 - 154. https://doi.org/10.47830/jinma-vol.73.3-2023-735