The Diagnostic Value of the Median Nerve Sonography in Chronic Phase Carpal Tunnel Syndrome Cases in Indonesia
Marcel Prasetyo

Department of Radiology, Faculty of Medicine Universitas Indonesia – Dr. Cipto Mangunkusumo National Central General Hospital, Jakarta

Widya Widya

Department of Radiology, Faculty of Medicine Universitas Indonesia – Dr. Cipto Mangunkusumo National Central General Hospital, Jakarta

Ahmad Yanuar Safri

Department of Neurology, Faculty of Medicine Universitas Indonesia – Dr. Cipto Mangunkusumo National Central General Hospital, Jakarta

Joedo Prihartono

Departement of Community Medicine, Faculty of Medicine Universitas Indonesia, Jakarta

Stefanus Imanuel Setiawan

Departement of Community Medicine, Faculty of Medicine Universitas Indonesia, Jakarta
Keywords:
Nerve Conduction Study, Ultrasonography, Median Nerve, Carpal Tunnel Syndrome
Abstract
Background. Ultrasound evaluation on the median nerve in carpal tunnel syndrome (CTS) patients by measuring cross-sectional area (CSA) is widely known. However, studies have shown that CSA of the median nerve could vary in different demographical factors. Therefore, the cut-off CSA value for CTS in the Indonesian population could be significantly different. Purpose. To compare mean CSA of the median nerve between normal and CTS populations and establish a cut-off point of CSA to diagnose CTS.
Materials and Methods. A comparative cross-sectional study was conducted involving 40 people divided equally into CTS and normal groups. Normal and CTS subjects are determined by Electrodiagnostic study (EDx) using EMG and Nerve Conduction Study (NCS). The CSA measurement was performed at the level of the carpal tunnel inlet.
Results. The mean CSA value at the level of tunnel inlet of the normal group was 8.3 ± 1.4 mm2 and for the CTS group is 15.4 ± 4.4 mm2. The receiver operating characteristics (ROC) analysis showed 10.6 mm2 as the cut-off point with 95% sensitivity and 95% specificity (P<0.001).
Conclusion. The median nerve CSA at the tunnel inlet is significantly larger in the CTS population and the cut-off point can be recommended in detecting CTS in the Indonesian population.
Downloads
Download data is not yet available.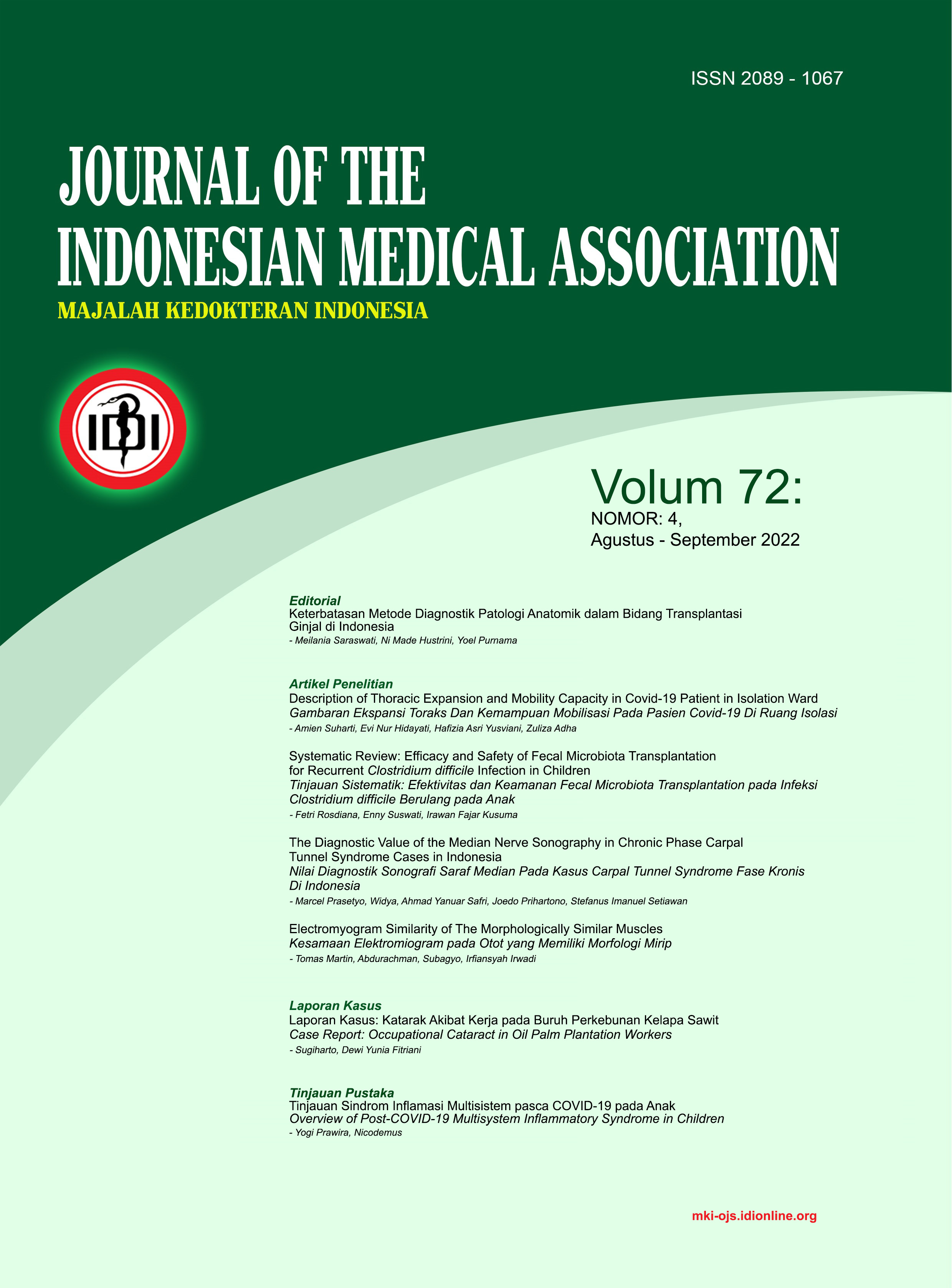 How to Cite
Prasetyo, M., Widya, W., Safri, A. Y., Prihartono, J., & Setiawan, S. I. (2022). The Diagnostic Value of the Median Nerve Sonography in Chronic Phase Carpal Tunnel Syndrome Cases in Indonesia. Journal Of The Indonesian Medical Association, 72(4), 174 - 181. https://doi.org/10.47830/jinma-vol.72.4-2022-550