Atherosclerosis Determinants of Intracranial and Extracranial Blood Vessels in Ischemic Stroke
Hedy Angeline

Neurology Departement, Faculty of medicine Universitas Sam Ratulangi/ Prof.Dr.R.D.Kandou Hospital, Manado, Indonesia

Junita Maja Pertiwi

Neurology Departement, Faculty of medicine Universitas Sam Ratulangi/ Prof.Dr.R.D.Kandou Hospital, Manado, Indonesia

Gilbert Tangkudung

Neurology Departement, Faculty of medicine Universitas Sam Ratulangi/ Prof.Dr.R.D.Kandou Hospital, Manado, Indonesia
Keywords:
Determinants, atherosclerosis, intracranial- extracranial, anterior posterior circulation, ischemic
Abstract
Introduction: Large artery atherosclerosis is the cause of ischemic stroke. Intracranial atherosclerosis (ICAS) is the main vascular lesion in patients with ischemic stroke in Asia, extracranial atherosclerosis (ECAS) also contributes to mortality or morbidity in 20% to 30% of the cases. Until now there are differences in the determinants of atherosclerosis in each country.
Method: A retrospective cross-sectional study, the sample of ischemic stroke patients from 2017-2020, acute onset and post-acute period and had undergone digital subtraction angiography examination, found atherosclerosis and met the inclusion and exclusion criteria.
Result: This study sample was 98 patients, consisting of 54 men and 44 women. The majority of ICAD was found in ischemic stroke patients 41%, combination (EICAS) 34%, and ECAS 26%, (p=0.633). In the circulation that had atherosclerosis, the majority was anterior circulation 62%, anterior-posterior 29%, and posterior circulation 9%, (p=<0.001). The age difference was more significant for cerebral artery circulation with stenosis (p=0.047). Based on the results of regression analysis, it was found that the age determination affected extracranial atherosclerosis in the posterior circulation by 1.68 times (p=0.030).
Conclusion: Age is the determinant of extracranial blood vessel atherosclerosis in the posterior circulation in ischemic stroke patients at Prof. Dr. R.D Kandou Manado; meanwhile, the determinants of atherosclerosis of intracranial was inconsistent.
Downloads
Download data is not yet available.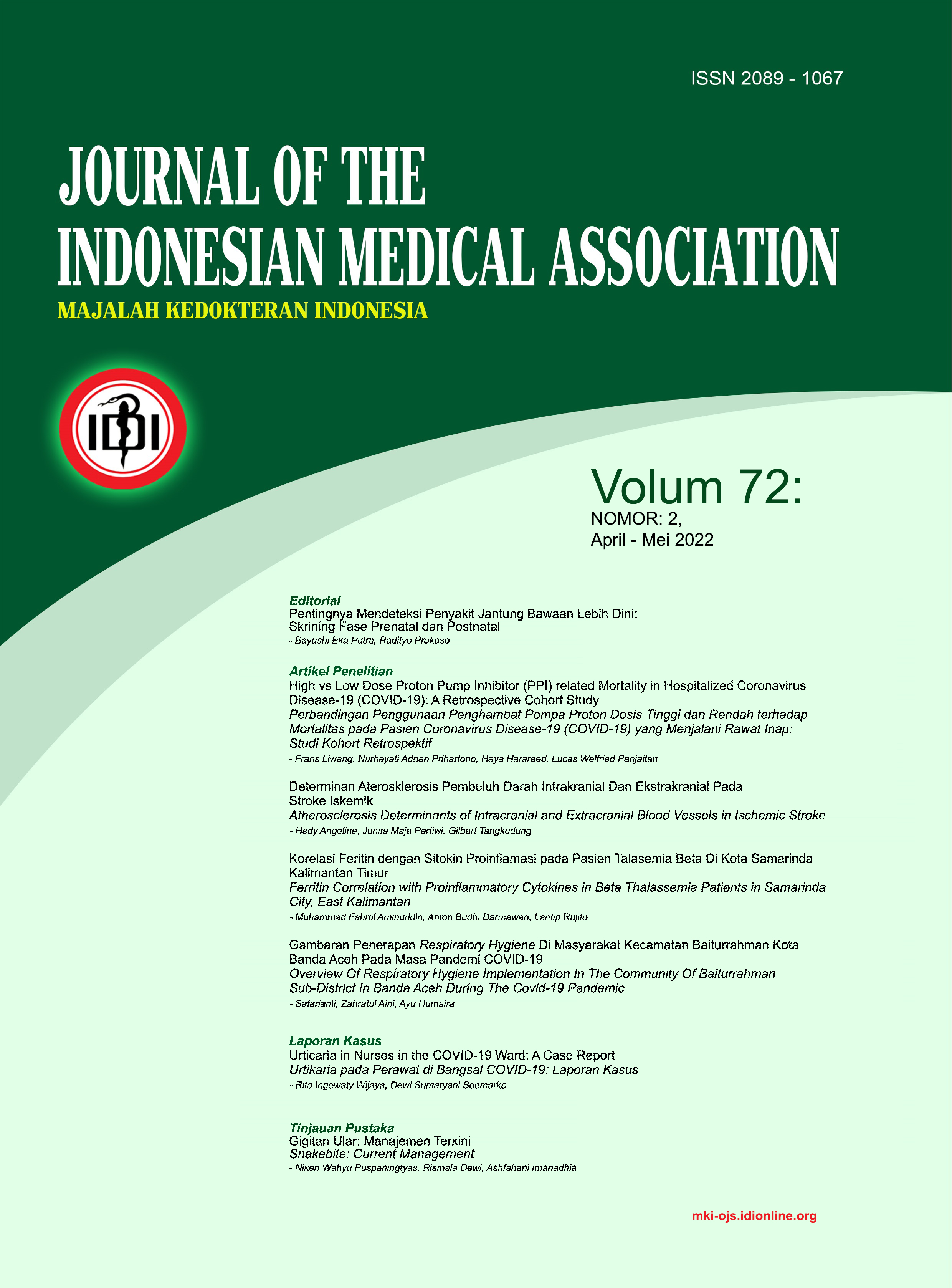 How to Cite
Angeline, H., Pertiwi, J. M., & Tangkudung, G. (2022). Atherosclerosis Determinants of Intracranial and Extracranial Blood Vessels in Ischemic Stroke. Journal Of The Indonesian Medical Association, 72(2), 66 - 75. https://doi.org/10.47830/jinma-vol.72.2-2022-527