Comparison of Respiratory Specimen Culture Results on Sloped Agar and Plate in the Parasitology Laboratory, Faculty of Medicine, Universitas Indonesia
Jason Theola

Faculty of Medicine, Universitas Indonesia, Salemba, Jakarta, Indonesia

Mulyati Mulyati

Parasitology Department, Faculty of Medicine, Universitas Indonesia, Salemba, Jakarta, Indonesia

Anna Rozaliyani

Parasitology Department, Faculty of Medicine, Universitas Indonesia, Salemba, Jakarta, Indonesia

Ridhawati Ridhawati

Parasitology Department, Faculty of Medicine, Universitas Indonesia, Salemba, Jakarta, Indonesia

Robiatul Adawiyah

Parasitology Department, Faculty of Medicine, Universitas Indonesia, Salemba, Jakarta, Indonesia
Keywords:
Culture, Respiratory specimen, Sloped agar, Plate
Abstract
Introduction: One of the main health problems in Indonesia is respiratory disease. Respiratory disease can be caused by fungus, so-called lung mycosis. The fungi species that cause respiratory infections in humans range from Candida sp. to more dangerous species such as Aspergillus fumigatus. Culture methods using respiratory specimens, especially sputum, can be used to identify species of fungi that cause pulmonary mycosis. Aim this study was conducted to compare the culture results between conventional culture methods on sloped agar and high volume culture method on plate.
Method: This study used a cross-sectional design in which the data of culture results were obtained from different culture methods.
Result: High volume culture method grew more colonies including Aspergillus fumigatus than conventional culture method which grew no Aspergillus fumigatus. The correlation of data between culture methods and culture results were analyzed with McNemar test and it showed p=0.000.
Conclusion: The relationship between the culture method and culture results has a significant correlation (p<0.05). Therefore, high volume culture was a better method to grow more fungal colonies including Aspergillus fumigatus than conventional culture methods.
Downloads
Download data is not yet available.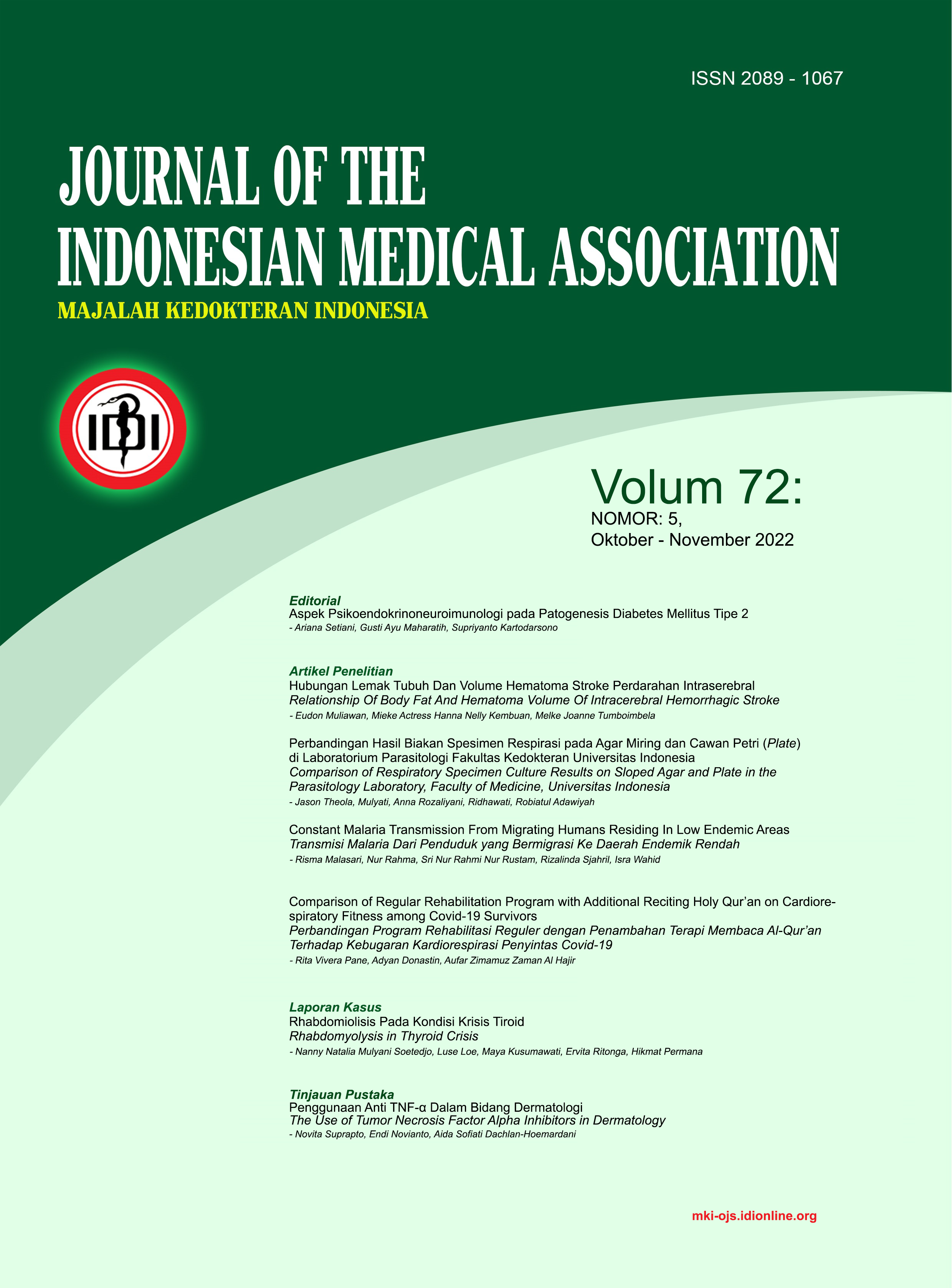 How to Cite
Theola, J., Mulyati, M., Rozaliyani, A., Ridhawati, R., & Adawiyah, R. (2022). Comparison of Respiratory Specimen Culture Results on Sloped Agar and Plate in the Parasitology Laboratory, Faculty of Medicine, Universitas Indonesia. Journal Of The Indonesian Medical Association, 72(5), 220 - 226. https://doi.org/10.47830/jinma-vol.72.5-2022-401