The Relationship Between Beighton Score and Walking Age in Children
Lavenia Kurniawati

Faculty of Medicine, Universitas Airlangga, Surabaya, Indonesia

Indrayuni Lukitra Wardhani

Department of Physical Medicine and Rehabilitation, Soetomo General Hospital, Faculty of Medicine, Universitas Airlangga, Surabaya, Indonesia

Nur Rochmah

Department of Pediatric, Soetomo General Hospital, Faculty of Medicine, Universitas Airlangga, Surabaya, Indonesia

Sulistiawati Sulistiawati

Department of Public Health – Preventive Medicine, Faculty of Medicine, Universitas Airlangga, Surabaya, Indonesia
Keywords:
Beighton score, child development, delay motor development, joint hypermobility
Abstract
Introduction: Studies showed that the condition of joint hypermobility is quite common in children. In general, joint hypermobility asses through the Beighton score method. The objective of this research was to investigate the relationship between beighton score and walking age in children.
Method: This research was conducted at a kindergarten in Surabaya using an observational analytic research type and a cross-sectional design. Data collected through interviews and physical examinations. A joint hypermobility examination performed using the Beighton score criteria. Meanwhile data was analyzed using the crosstabulation and Spearman test.
Result: It was found that 84% of children had ≥4/9 score on the Beighton score and there were 92% with positive Beighton score in the knee joint. In this study, as many as 20 children experienced the first independent walks over 18 months when 18 of them who has Beighton score ≥4 points. However, there is no correlation found on the Beighton score and the walking age [sig. (2-tailed) = 0.053].
Conclusion: Children who have ≥4 points of Beighton score are mostly found in this study. The relationship between the Beighton score and walking age was not statistically significant.
Downloads
Download data is not yet available.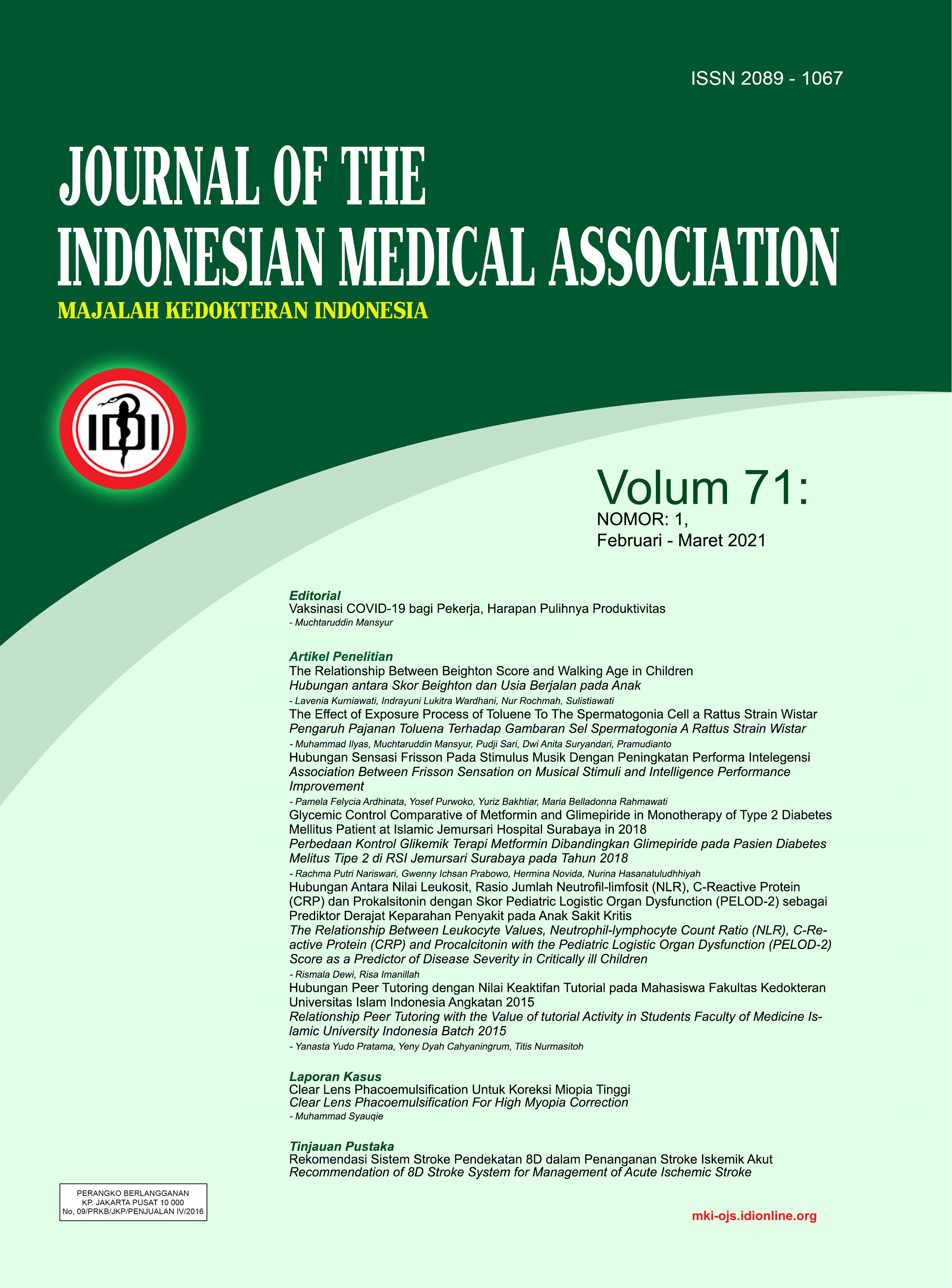 How to Cite
Kurniawati, L., Wardhani, I. L., Rochmah, N., & Sulistiawati, S. (2021). The Relationship Between Beighton Score and Walking Age in Children. Journal Of The Indonesian Medical Association, 71(1), 5-10. https://doi.org/10.47830/jinma-vol.71.1-2021-355