Vitamin D and COVID-19: Insight on Mechanism and Implementation in Equatorial Countries
Indah Bachti Setyarini

Department of Nutrition, Faculty of Medicine Universitas Indonesia-Dr. Cipto Mangunkusumo Hospital, Jakarta, Indonesia

Nurul Ratna

Department of Nutrition, Faculty of Medicine Universitas Indonesia-Dr. Cipto Mangunkusumo Hospital, Jakarta, Indonesia

Ninik Mudjihartini

Department of Biochemistry, Faculty of Medicine Universitas Indonesia, Jakarta, Indonesia
Keywords:
vitamin D, covid-19, equatorial countries
Abstract
Coronavirus disease 2019 (COVID-19) is a global pandemic caused by Severe Acute Respiratory Syndrome Coronavirus-2 (SARS-CoV-2) infection, affecting millions of people worldwide due to its ease of transmission. Despite limited information on effective therapeutic options, vitamin D has been regularly reported to exert beneficial immunomodulatory effects affecting both innate and adaptive immune systems. As it is synthesized in the skin under ultraviolet radiation, population living in equatorial countries are presumed to have adequate vitamin D, however several studies have shown otherwise. This article is aimed to give an insight on the different mechanisms by which vitamin D affects our immune system in COVID-19, as well as discussing correlation of having sunlight all year round by being near the equator towards vitamin D adequacy.
Downloads
Download data is not yet available.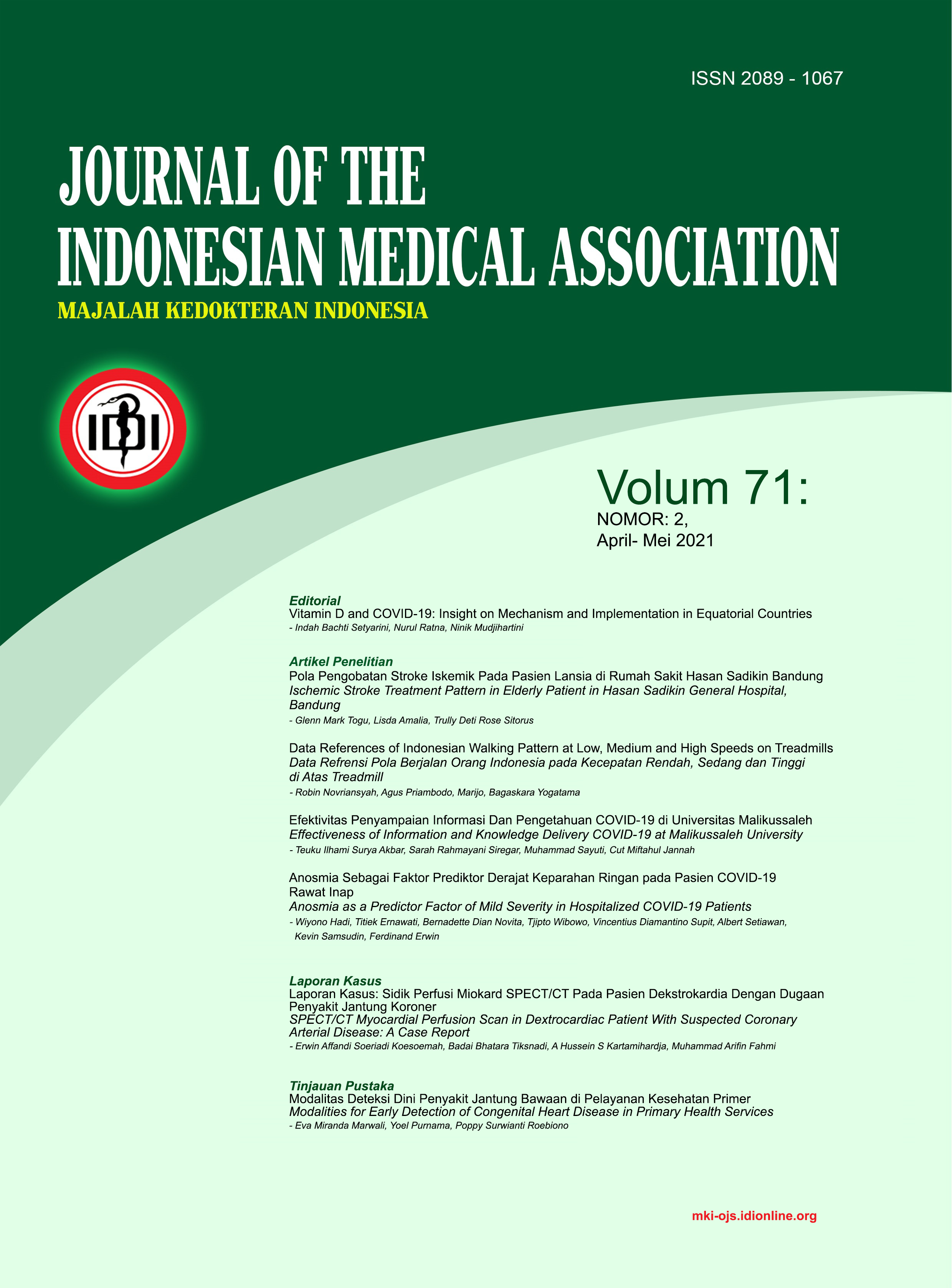 How to Cite
Setyarini, I. B., Ratna, N., & Mudjihartini, N. (2021). Vitamin D and COVID-19: Insight on Mechanism and Implementation in Equatorial Countries. Journal Of The Indonesian Medical Association, 71(2), 61-64. https://doi.org/10.47830/jinma-vol.71.2-2021-354