Correlation between T2, T2* Relaxometry and SIR T2* value of Pituitary with Degree of FSH and LH Level and Fe status in Thalassemia Major Patients
Wita Septiyanti

Department of Radiology, Faculty of Medicine, Universitas Indonesia, Cipto Mangunkusumo Hospital, Jakarta.

Damayanti Sekarsari

Department of Radiology, Faculty of Medicine, Universitas Indonesia, Cipto Mangunkusumo Hospital, Jakarta

Pustika Amalia W

Departement of Pediatric, Faculty of Medicine, Universitas Indonesia, Cipto Mangunkusumo Hospital, Jakarta

Joedo Prihartono

Departement of Medical Community, Faculty of Medicine, Universitas Indonesia, Jakarta
Keywords:
Hypogonadotropic hypogonadism, iron deposit, pituitary MRI, thalassemia
Abstract
Background: Thalassemia is a hereditary hemolytic anemia disorder. Periodic transfusion for thalassemia patients may lead iron deposit in pituitary gland and induce hypogonadotropic hypogonadism. MRI examination has been started to be used for measurement of iron level in pituitary gland.
Method: This study uses cross sectional method. MRI T2 and T2* relaxometry value and SIRT2* of pituitary gland was correlated with FSH and LH level in patients with major thalassemia. This study involves 28 subjects and conducted from December 2016 to March 2017.
Result: There is correlation between relaxometry values of coronal slice T2 pituitary with FSH and LH level. There is also a correlation between pituitary SIRT2* value with LH level.
Conclusion: Relaxometry value of coronal slice T2 pituitary and pituitary SIRT2* value may be use as reference for iron deposit on pituitary gland as well as to monitor chelating therapy in major thalassemia â patients.
Downloads
Download data is not yet available.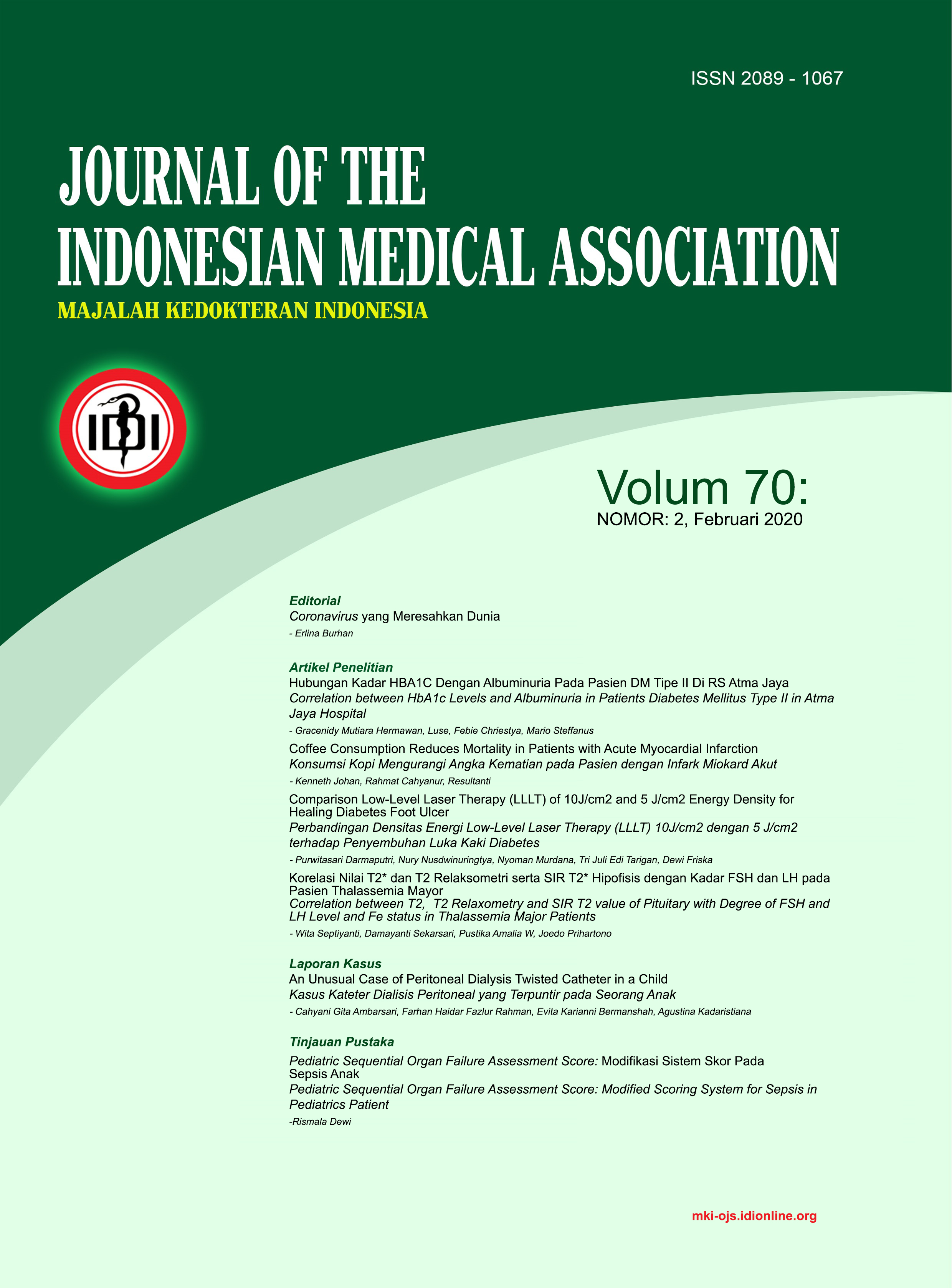 How to Cite
Wita Septiyanti, Damayanti Sekarsari, Pustika Amalia W, & Joedo Prihartono. (2020). Correlation between T2, T2* Relaxometry and SIR T2* value of Pituitary with Degree of FSH and LH Level and Fe status in Thalassemia Major Patients. Journal Of The Indonesian Medical Association, 70(2), 23-26. https://doi.org/10.47830/jinma-vol.70.2-2020-174