Recommendation of 8D Stroke System for Management of Acute Ischemic Stroke
Affan Priyambodo Permana

Neurosurgery Department, Faculty of Medicine Universitas Indonesia, dr. Cipto Mangunkusumo Hospital, Jakarta, Indonesia

Zharifah Fauziyyah Nafisah

Neurosurgery Department, Faculty of Medicine Universitas Indonesia, dr. Cipto Mangunkusumo Hospital, Jakarta, Indonesia

Taufik Mesiano

Neurology Department, Faculty of Medicine Universitas Indonesia, dr. Cipto Mangunkusumo Hospital, Jakarta, Indonesia

Reyhan Eddy Yunus

Radiology Department, Faculty of Medicine Universitas Indonesia, dr. Cipto Mangunkusumo Hospital, Jakarta, Indonesia

Septo Sulistio

Emergency Department, dr. Cipto Mangunkusumo Hospital, Jakarta, Indonesia

Hadiki Habib

Emergency Department, dr. Cipto Mangunkusumo Hospital, Jakarta, Indonesia

Radi Muharris Mulyana

Emergency Department, dr. Cipto Mangunkusumo Hospital, Jakarta, Indonesia

Imamul Aziz Albar

Emergency Department, dr. Cipto Mangunkusumo Hospital, Jakarta, Indonesia
Keywords:
Acute ischemic stroke, 8D stroke system, Intravenous thrombolysis, Mechanical Thrombectomy, Outcome
Abstract
Stroke is the leading cause of death in Indonesia and leading cause of long-termdisability in the world. Ischemic stroke include 85% of all stroke cases. Ischemic stroke is caused by thromboembolic blockage or arterial stenotic by atherosclerotic plaque. Current practice shows that ischemic stroke can be treated. Treatment using intravenous thrombolytic (IV-tPA) and mechanical thrombectomy will provide better outcomes for the patient. It can be achieved when treated <4.5 hours since onset for IV-tPA and <6-24 hours for large vessel occlusions using mechanical thrombectomy. However, only a small number of patients can achieve this treatment due to lack of society knowledge about the sign and symptoms, transportation problems, and the stroke management system that has not been well established. Every one minute stroke patient is left untreated, 1.9 millions neurons in the brain are dead. An integrated management of the stroke system can provide better outcomes, lower the length-of-stay of the patients in hospital and reduce the cost spent for treatment. One system that is recommended for managing stroke cases is 8D that consist of detection, dispatch, delivery, door, data, decision, drug/device, and disposition. This system will help health care providers to collaborate through a multidisciplinary system for managing acute ischemic stroke cases comprehensively so that stroke patients can get proper handling and better outcomes.
Downloads
Download data is not yet available.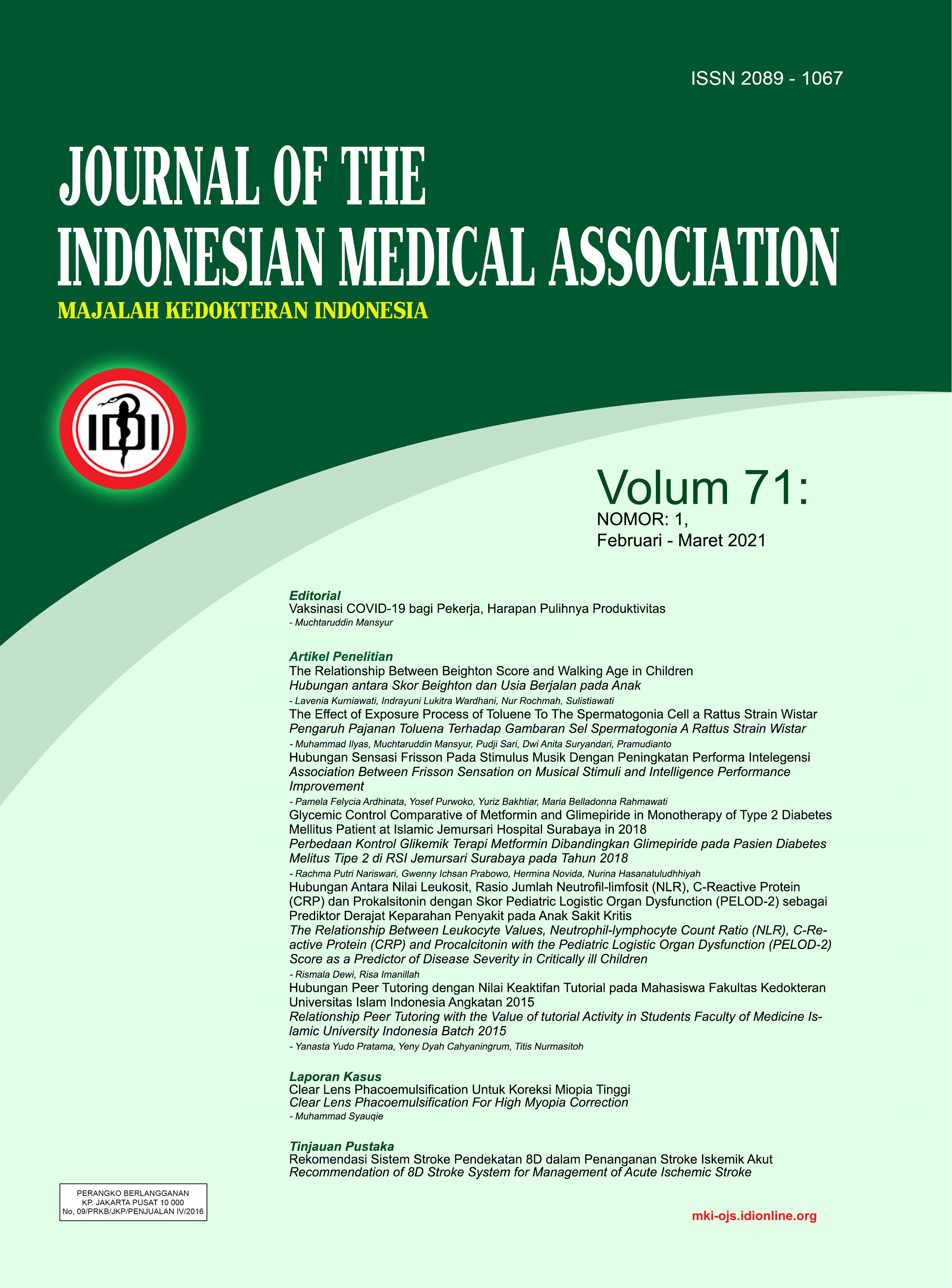 How to Cite
Permana, A. P., Nafisah, Z. F., Mesiano, T., Yunus, R. E., Sulistio, S., Habib, H., Mulyana, R. M., & Albar, I. A. (2021). Recommendation of 8D Stroke System for Management of Acute Ischemic Stroke. Journal Of The Indonesian Medical Association, 71(1), 54-60. https://doi.org/10.47830/jinma-vol.71.1-2021-162