Predictor of Dengue Shock Syndrome Among Pediatric Dengue Infection in Limited Resource Setting
Cindy Cecilia

Sampang General Hospital, Sampang, Madura, Indonesia

Julius Albert Sugianto

Faculty of Medicine, Universitas Airlangga, Surabaya, Indonesia
Keywords:
dengue, dengue severy predictor, dengue in pediatrics
Abstract
Introduction: Indonesia has the most dengue outbreaks in the ASEAN region. Lack of diagnostic modality and poor sanitation especially in rural area hinders proper and prompt management of Dengue Fever.
Aim: Finding the early, simple, and reliable predictor of Dengue Shock Syndrome (DSS) in Indonesia.
Materials and Methods: A retrospective study reviewing the medical record of pediatric patient with dengue infection from 1 January 2016 to 31 March 2016 were conducted. Age, gender, dengue signs, and simple laboratory result were collected. The data acquired were then analyzed using logistic regression for multivariate analysis (P<0,05) to find the severity predictor.
Results: 80 cases of dengue infection were included, mean age was 7,7 ± 3.4 years old, the average length of hospital stay was 4.59 days. 28.75% of patients had DSS. From the multivariate analysis, it is found that lethargy (p= 0.00; OR 21.23), bleeding (p= 0.01; OR 0,04), cold extremities (p=0.00;OR=22.35), and increased haematocrit level (p=0.01;OR=4.72) has significant relationship with DSS while other indicator did not.
Conclusion: Patients presenting with lethargy, cold extremities, and increase in haematocrit level should be treated promptly and intensively as they are more likely to develop DSS compared to patients who did not.
Downloads
Download data is not yet available.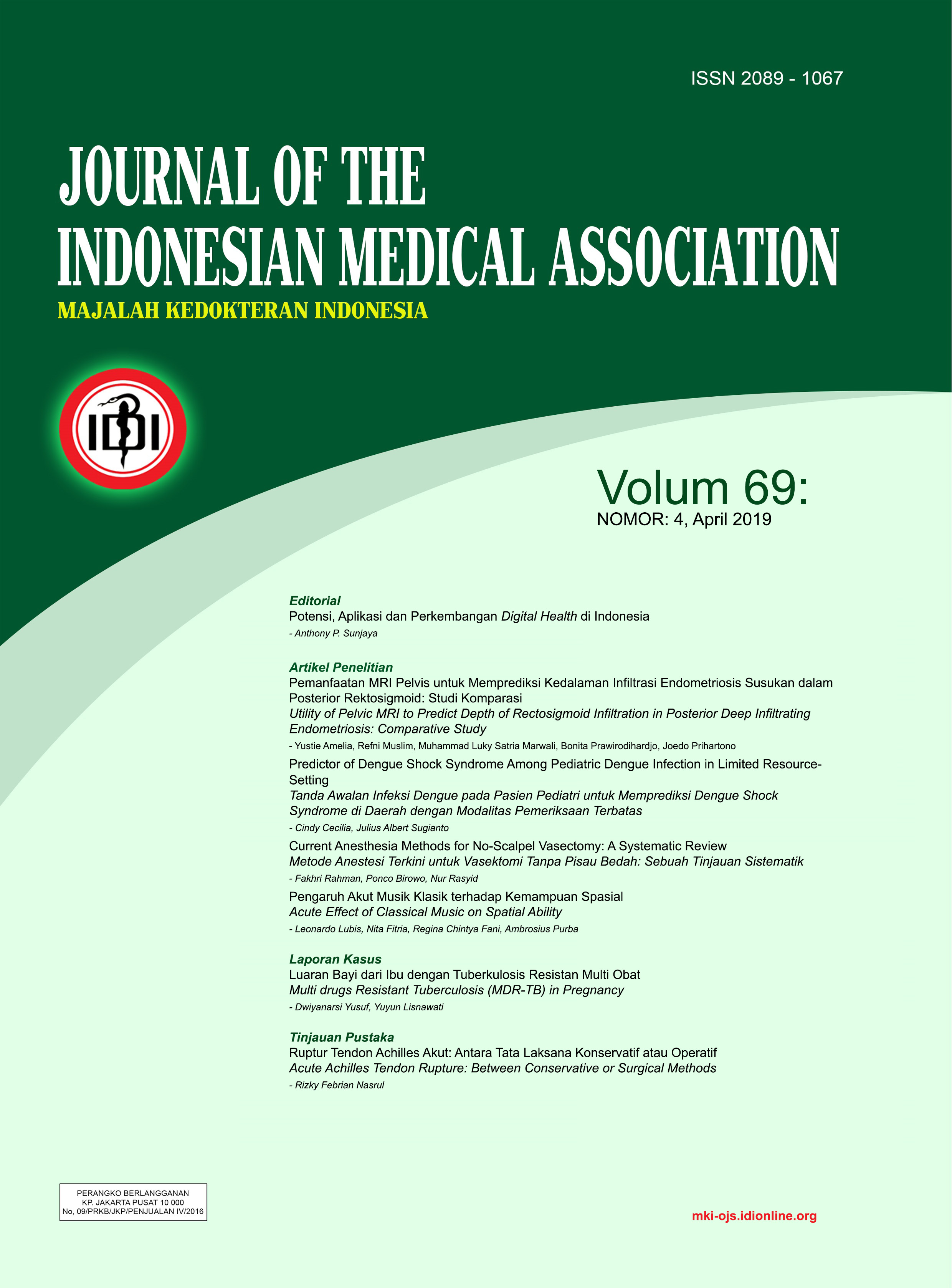 How to Cite
Cecilia, C., & Sugianto, J. A. (2019). Predictor of Dengue Shock Syndrome Among Pediatric Dengue Infection in Limited Resource Setting. Journal Of The Indonesian Medical Association, 69(4), 178-183. https://doi.org/10.47830/jinma-vol.69.4-2019-65