Overview of COVID-19 in Children: Infection to Therapy
Rismala Dewi

Child Health Department, University of Indonesia, Cipto Mangunkusumo Hospital, Jakarta
Keywords:
COVID-19, Acute Respiratory Infection, Virus, Pediatric
Abstract
Coronavirus disease 2019 (COVID-19) is an acute respiratory infection which is caused by SARS-CoV-2 virus. Studies showed that the transmission of the virus is from human to human the primary transmission of SARS-CoV-2 infection is via droplets produced by sneezing or coughing. There is a possibility that COVID-19 can be transmitted through aerosol or airborne transmission. The incubation period of this infection is predicted to be between 3-14 days after close contact. Patients with COVID-19 could have various clinical manifestations from asymptomatic to respiratory failure. Although a few cases revealed that COVID-19 could result in critical condition, COVID-19 is relatively mild in children. Physicians must diagnose and assess the clinical severity of the patient with SARS-CoV-2 infection as it affects the management of the disease. Several anti-viral medicines that might be effective in treating COVID-19 patients such as Remdesivir, Chloroquine/Hydroxychloroquine, Lopinavir-Ritonavir, and Tocilizumab are currently still on trial. It is also crucial to prevent the spread of COVID-19 by encouraging people to apply hand-hygiene, practice social distancing, and disinfect all possible sources.
Downloads
Download data is not yet available.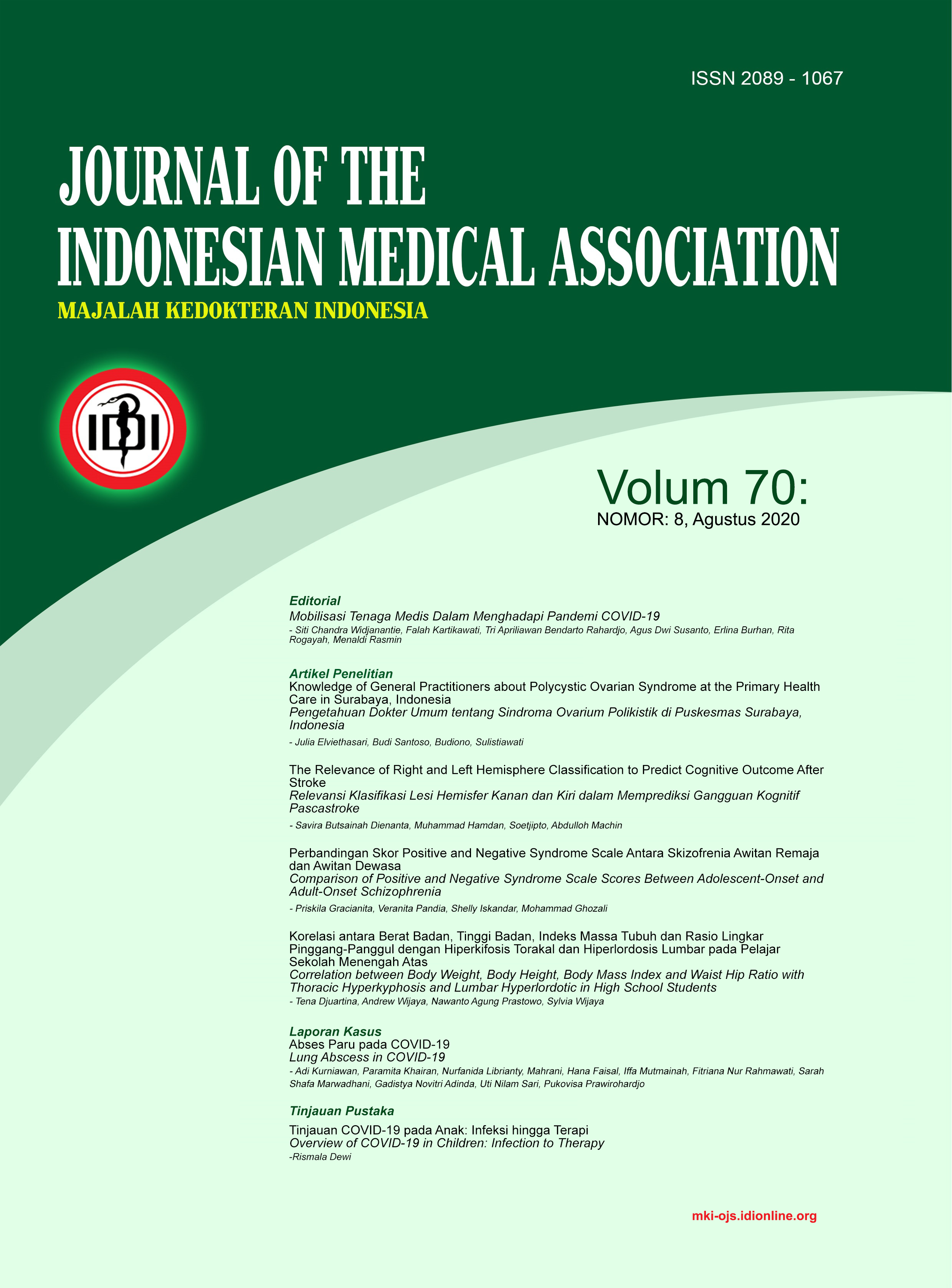 How to Cite
Rismala Dewi. (2020). Overview of COVID-19 in Children: Infection to Therapy. Journal Of The Indonesian Medical Association, 70(8), 182-189. https://doi.org/10.47830/jinma-vol.70.8-2020-297