Relationship between Chronic Heart Failure Functional Class and Anaemia Severity in Patients of Atma Jaya Hospital
Bryan Nathaniel

Undergraduate Program of Faculty of Medicine and Health Science, Faculty of Medicine and Health Science, Atma Jaya Catholic Universitas of Indonesia, Jakarta

Luse

Department of Internal Medicine, Faculty of Medicine and Health Science, Atma Jaya Catholic Universitas of Indonesia, Jakarta

Febie Chriestya

Department of Internal Medicine, Faculty of Medicine and Health Science, Atma Jaya Catholic Universitas of Indonesia, Jakarta

Yunita Maslim

Department of Internal Medicine, Faculty of Medicine and Health Science, Atma Jaya Catholic Universitas of Indonesia, Jakarta
Keywords:
Anemia, Heart failure, NYHA-FC
Abstract
Introduction: There are 40 million people predicted to suffer from heart failure (HF), in Indonesia it is around 13% of the population. The incidence of anaemia in heart failure patients is estimated to be between 17-50%. AnGagal emia is known to increase mortality risk and worsening prognosis in HF patients and a better understanding of the mechanism will lead to better treatment effectiveness.
Methods: The study uses analytical observational method and a cross-sectional design. Data are taken from medical records admitted in 2016 to 2018 and grouped based on New York Heart Association Functional Class (NYHA-FC) and anemia severity (WHO anaemia cut-off point).
Results: Eighty-one anemic HF patients analyzed and consists of 34,57% NYHA II, 24,69% NYHA III, and 40,7% NYHA IV. A total of 50,6% patients are mildy anemic and 49,4% are moderately anemic. No severe anemia was found. Multivariate analysis shows chronic HF functional class did not have a significant relationship with anaemia severity (p = 0,179).
Conclusions: There is no significant relationship between Chronic HF NYHA-FC and anaemia severity. Severe anemia are rarely found in HF patients without severe kidney failure.
Downloads
Download data is not yet available.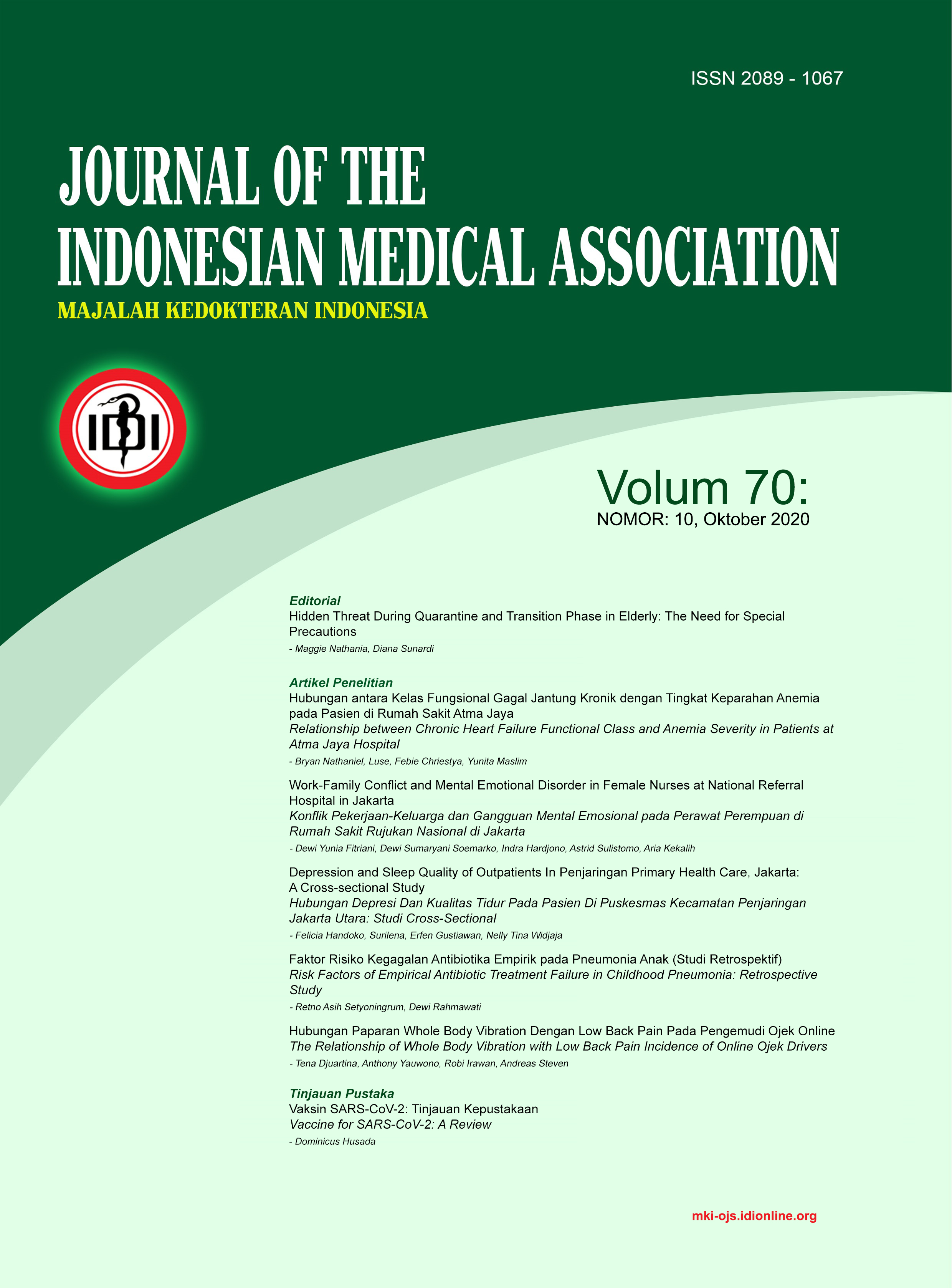 How to Cite
Nathaniel, B., Luse, Chriestya, F., & Maslim, Y. (2020). Relationship between Chronic Heart Failure Functional Class and Anaemia Severity in Patients of Atma Jaya Hospital. Journal Of The Indonesian Medical Association, 70(10), 194-199. https://doi.org/10.47830/jinma-vol.70.10-2020-284