Work-Family Conflict and Mental Emotional Disorder in Female Nurses at National Referral Hospital in Jakarta
Dewi Yunia Fitriani

Department of Community Medicine, Faculty of Medicine, Universitas Indonesia, Jakarta

Dewi Sumaryani Soemarko

Department of Community Medicine, Faculty of Medicine, Universitas Indonesia, Jakarta

Indra Hardjono

Department of Community Medicine, Faculty of Medicine, Universitas Indonesia, Jakarta

Astrid Sulistomo

Department of Community Medicine, Faculty of Medicine, Universitas Indonesia, Jakarta

Aria Kekalih

Department of Community Medicine, Faculty of Medicine, Universitas Indonesia, Jakarta
Keywords:
mental health, work-life balance, female workers
Abstract
Introduction: Emotional mental disorder (EMD) is a state of psychological distress that, if not handled properly, can lead to severe mental disorders. One potential psychosocial hazard that is thought to be related to mental health disorders is work-family conflict (WFC). The issue of family-work balance has become an important issue among Indonesian female workers, especially with the rapidly growing female worker society and the strong family culture. This study aimed to identify the association between work-family conflict and emotional mental disorder in female nurses.
Methods: This cross-sectional study included 264 female nurses who work at national referral general hospital in Jakarta. Their emotional mental disorder was measured using Self-Reported Questionnaire 20 (SRQ-20) and the work-family conflict was measured using the Work-Family Conflict Scale (WCFS).
Results: The prevalence of emotional mental disorder in female nurses was 23.5%. The most dominant factor associated with emotional mental disorder is work-family conflict (OR 2,40, CI 95% 1,32-4,35, p=0,004).
Conclusion: There is a significant association between work-family conflicts and emotional mental disorders in female nurses in Indonesia. Nurses with work-family conflicts are more likely to have emotional mental disorders. Regular mental health checks and counseling should be performed along with periodic health checks.
Downloads
Download data is not yet available.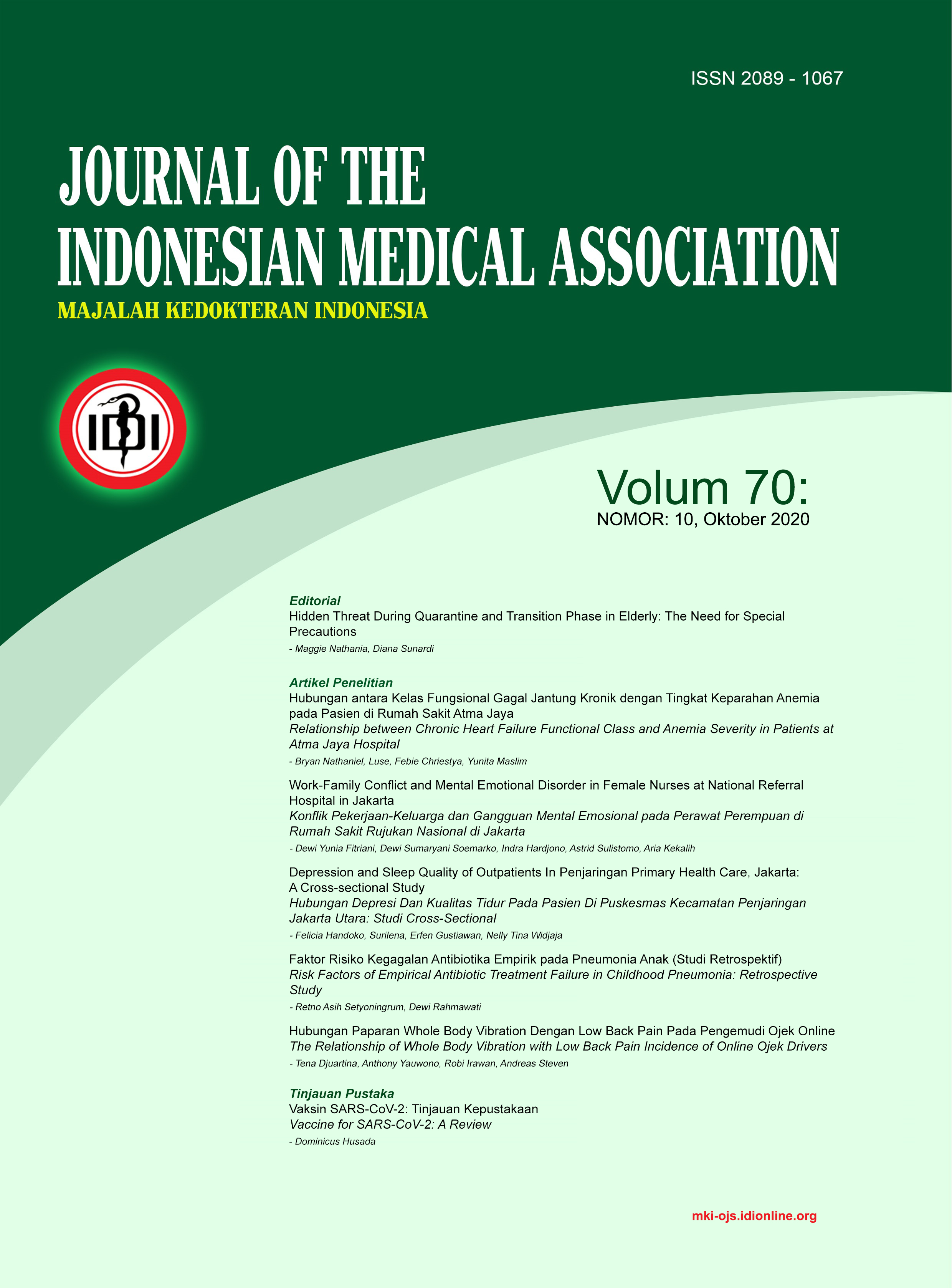 How to Cite
Fitriani, D. Y., Soemarko, D. S., Indra Hardjono, Astrid Sulistomo, & Aria Kekalih. (2020). Work-Family Conflict and Mental Emotional Disorder in Female Nurses at National Referral Hospital in Jakarta. Journal Of The Indonesian Medical Association, 70(10), 200-206. https://doi.org/10.47830/jinma-vol.70.10-2020-268