Knowledge of General Practitioners about Polycystic Ovarian Syndrome at the Primary Health Care in Surabaya, Indonesia
Julia Elviethasari

Faculty of Medicine Universitas Airlangga

Budi Santoso

Departement of Obstetrics & Gynecology, Faculty of Medicine, Universitas Airlangga, Surabaya, Indonesia.

Budiono

Departement of Public Health - Preventive Medicine, Faculty of Medicine, Universitas Airlangga, Surabaya, Indonesia

Sulistiawati

Departement of Public Health - Preventive Medicine, Faculty of Medicine, Universitas Airlangga, Surabaya, Indonesia
Keywords:
Knowledge of general practitioners, PCOS, Primary Health Care.
Abstract
Introduction: Early detection to diagnose PCOS as a promotive and preventive effort is needed in PHC.
Method: By using a descriptive research design that was conducted on one of the general practitioners in the Maternal and Child Health Polyclinic (MCH) in 30 PHC was targeted by PCOS from August - October 2019.
Result: Thirty general practitioners participated in filling out the questionnaire. Obtained results based on risk factors divided into three categories 33.33% good, 50% sufficient and 16.67% deficient, for causes 6.67% good, 40% sufficient and 53.33% deficient and clinical symptoms 6.67 good%, 40% sufficient and 53.33% deficient.
Conclusion: General practitioners at the PHC had a sufficient level of knowledge for risk factors categorized, causes were lacking and symptoms of clinics were lacking. This was an important finding so that it was necessary to increase the specific knowledge of PCOS for the main steps of early detection in PHC.
Downloads
Download data is not yet available.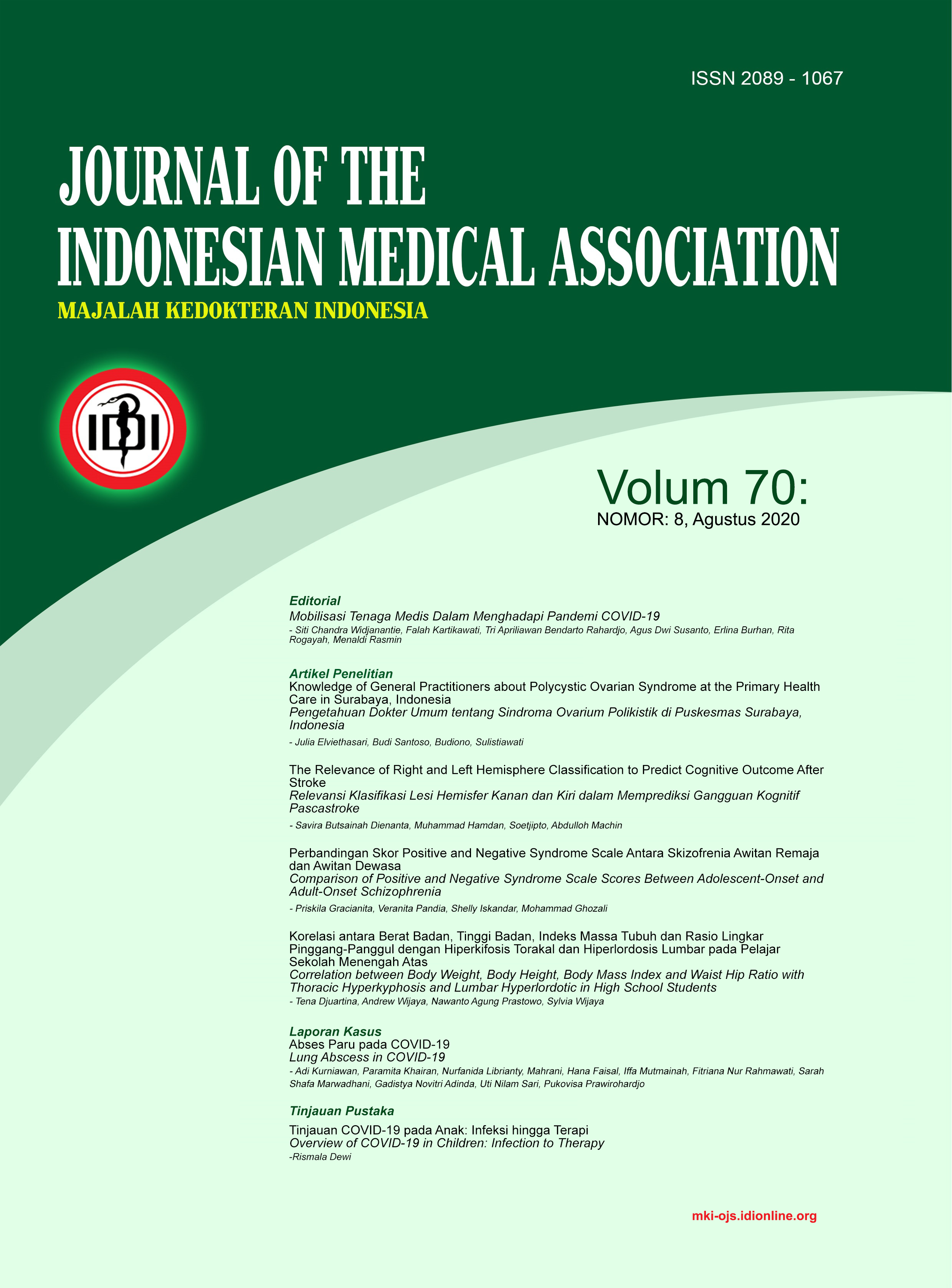 How to Cite
Julia Elviethasari, Budi Santoso, Budiono, & Sulistiawati. (2020). Knowledge of General Practitioners about Polycystic Ovarian Syndrome at the Primary Health Care in Surabaya, Indonesia. Journal Of The Indonesian Medical Association, 70(8), 144-150. https://doi.org/10.47830/jinma-vol.70.8-2020-228