Successful Myomectomy During Cesarean Section: A Case Series
Elizabeth Dian Novita

Departemen Obstetri dan Ginekologi, Universitas Indonesia, Jakarta, Indonesia

Yuyun Lisnawati

DepartemenObstetri dan Ginekologi, RSUP Persahabatan, Jakarta, Indonesia
Keywords:
cesarean myomectomy, leiomyoma, pregnancy
Abstract
Background: The incidence of myoma associated with pregnancy is reported about 0.3–5%. As the maternal age increase, so the incidence of myoma. Myomectomy is the most common surgical procedure performed during cesarean section. Many obstetricians are reluctant to perform this combined procedure as they are worried about the potential morbidity and mortality rates due to uncontrollable bleeding. Objectives of this case series is to investigate the success of myomectomy in cesarean section at Persahabatan Hospital, Jakarta.
Methods: Four cases of leiomyoma with pregnancy underwent myomectomy during cesarean section. The indications for cesarean, the average surgery time, the amount of blood loss, the need of transfusion and intensive care, postoperative complications and length of stay were recorded as outcome.
Results: The average time taken for surgery was about 100 minutes, average blood loss was approximately 300 ml to 1000 ml, more than usual cesarean section. There were no need of transfusion and intensive care, longer of stay or postpartum hemorrhage in any of the cases.
Conclusions: Myomectomy at the time of caesarean section may be a safe and feasible procedure. Caesarean myomectomy, if done in well-equipped centers by an experienced obstetrician is a definite and safe option.
Downloads
Download data is not yet available.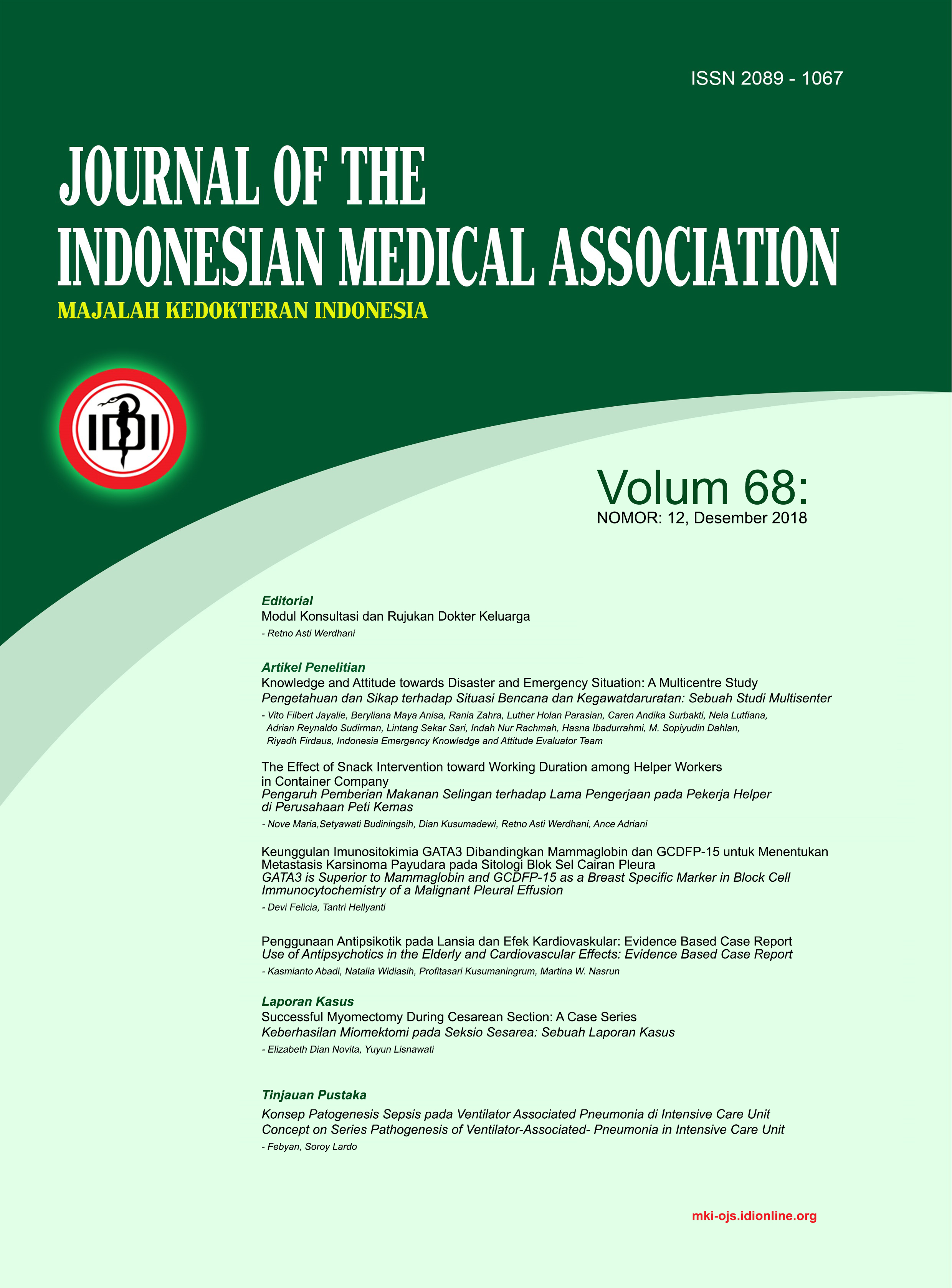 How to Cite
Elizabeth Dian Novita, & Yuyun Lisnawati. (2020). Successful Myomectomy During Cesarean Section: A Case Series. Journal Of The Indonesian Medical Association, 68(12), 486-491. https://doi.org/10.47830/jinma-vol.68.12-2018-208