Carotid-Cavernous Fistula: Clinical Manifestation and Management
Nadira Deanda Putri

Neurointervension Division, National Brain Centre Hospital Prof. Dr. dr. Mahar Mardjono, Jakarta, Indonesia

https://orcid.org/0000-0001-7774-6853

Bambang Tri Prasetyo

Neurosurgery Departement, National Brain Centre Hospital Prof. Dr. dr. Mahar Mardjono, Jakarta, Indonesia

https://orcid.org/0000-0002-9135-5362

Ricky Gusanto Kurniawan

Neurosurgery Departement, National Brain Centre Hospital Prof. Dr. dr. Mahar Mardjono, Jakarta, Indonesia

https://orcid.org/0000-0002-5738-2631

Beny Rilianto

Neurosurgery Departement, National Brain Centre Hospital Prof. Dr. dr. Mahar Mardjono, Jakarta, Indonesia

https://orcid.org/0000-0002-1391-0543

Pratiwi Raissa Windiani

Neurointervension Division, National Brain Centre Hospital Prof. Dr. dr. Mahar Mardjono, Jakarta, Indonesia

https://orcid.org/0000-0001-9255-2221

Abrar Arham

Neurosurgery Departement, National Brain Centre Hospital Prof. Dr. dr. Mahar Mardjono, Jakarta, Indonesia
Keywords:
Carotid-cavernous sinus fistula, carotid artery, cavernous sinus, endovascular
Abstract
Carotid-cavernous fistula (CCF) is a vascular abnormality that occurs between the internal or external carotid artery and veins within the cavernous sinus. CCFs can be classified as direct (Barrow type A) or indirect CCFs (Barrow types B, C, and D). The causes of direct CCFs are trauma and vascular rupture, whereas indirect CCFs are commonly found in patients with hypertension, connective tissue disorders, pregnancy, and dissection of the internal carotid artery. Signs and symptoms of CCF vary widely, ranging from acute-onset headache, proptosis, diplopia, ophthalmoplegia, conjunctival chemosis, orbital bruit, and blindness, but it can solely manifest as conjunctival redness. Patients with suspected CCF should undergo neuroradiology imaging, followed by endovascular intervention to close the fistula and keep the carotid artery open. With appropriate treatment, complete resolution is expected to occur in all patients.
Downloads
Download data is not yet available.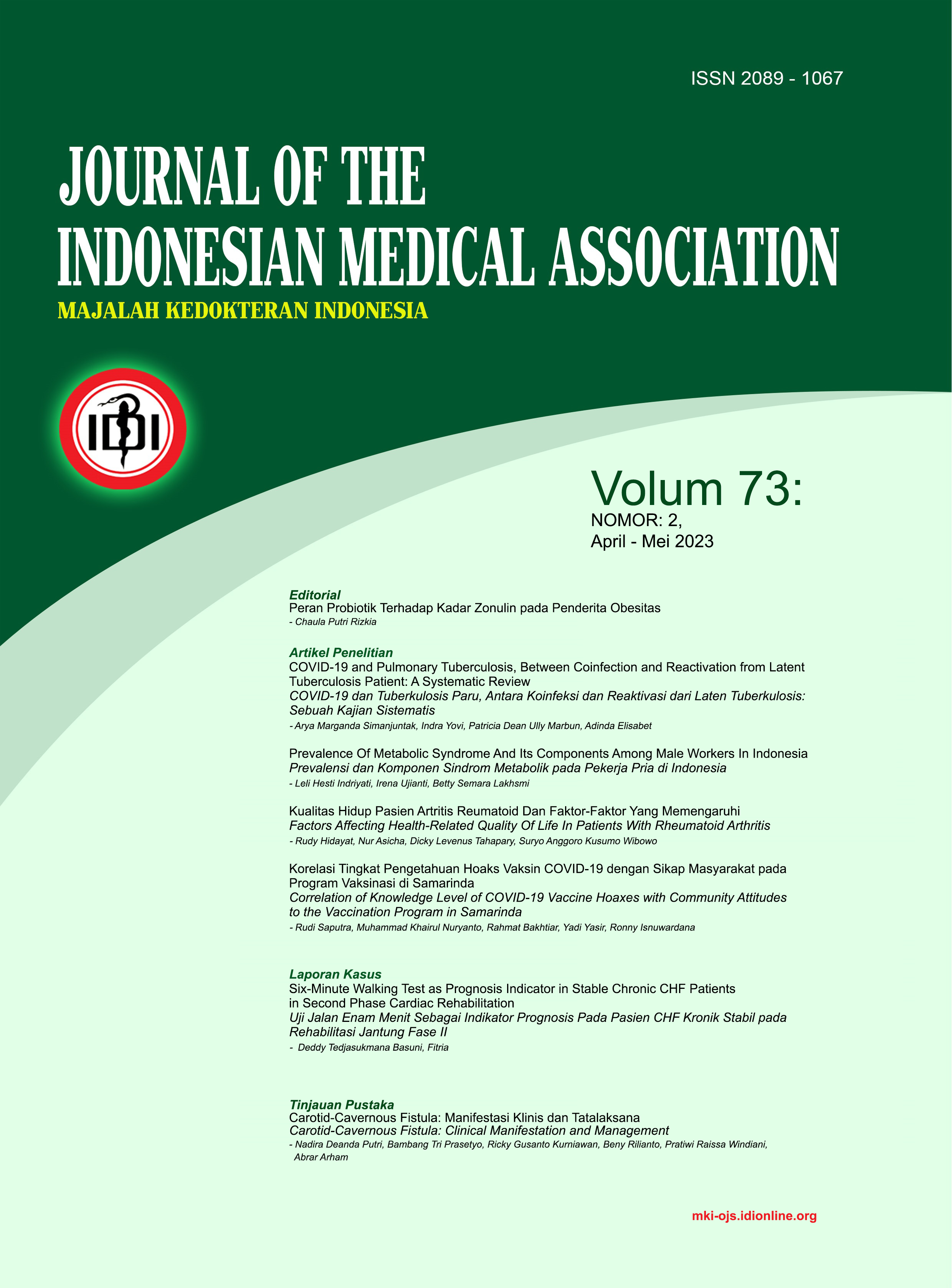 How to Cite
Putri, N. D., Prasetyo, B. T., Kurniawan, R. G., Rilianto, B., Windiani, P. R., & Arham, A. (2023). Carotid-Cavernous Fistula: Clinical Manifestation and Management. Journal Of The Indonesian Medical Association, 73(2), 102 - 107. https://doi.org/10.47830/jinma-vol.73.2-2023-880