Ischemic Stroke Treatment Pattern in Elderly Patient in Hasan Sadikin General Hospital, Bandung
Glenn Mark Togu

Faculty of Medicine, Universitas Padjajaran, Sumedang, Indonesia

Lisda Amalia

Department of Neurology, Faculty of Medicine, Universitas Padjadjaran/RSUP Dr. Hasan Sadikin, Bandung, Indonesia

Trully Deti Rose Sitorus

Department of Pharmacology and Therapeutic, Faculty of Medicine, Universitas Padjadjaran/RSUP Dr. Hasan Sadikin, Bandung, Indonesia
Keywords:
Elderly, Ischemic stroke, Treatment pattern
Abstract
Background: Ischemic stroke in Indonesia is one of the main causes of disability and mortality in elderly. Aging is related with the increase of comorbidities. The comorbidities in elderly increase the potential for polypharmacy prescribing which increases the incidence of drug side effects. This study's purpose is to know the demographic characteristic, treatment pattern, and side effect of the treatment in elderly patients with ischemic stroke.
Methods: This study is a descriptive study with a cross-sectional design which was conducted throughout September–October 2020. This study used secondary data from ischemic stroke patients' medical records admitted in Dr. Hasan Sadikin Central General Hospital's in 2015–2019, with simple random sampling.
Result: Result of this study shows that most elderly patients with ischemic stroke were young elderly aged 60-69 years, male, with hypertension as the major risk factor. Polytherapy (2-4 drugs) was found in 79 patients and polypharmacy (>5 drugs) was found in 21 patients. Six patients with polytherapy and four patients with polypharmacy experienced drug side effects. Drug side effects of treatment observed were stress ulcer, upper gastrointestinal bleeding, and anemia.
Conclusions: The treatment patterns were dominated by polytherapy (2-4 drugs). The percentage of elderly patients with polypharmacy (>5 drugs) experiencing side effects was more than those with polytherapy. Drug side effects were dominated by stress ulcer.
Downloads
Download data is not yet available.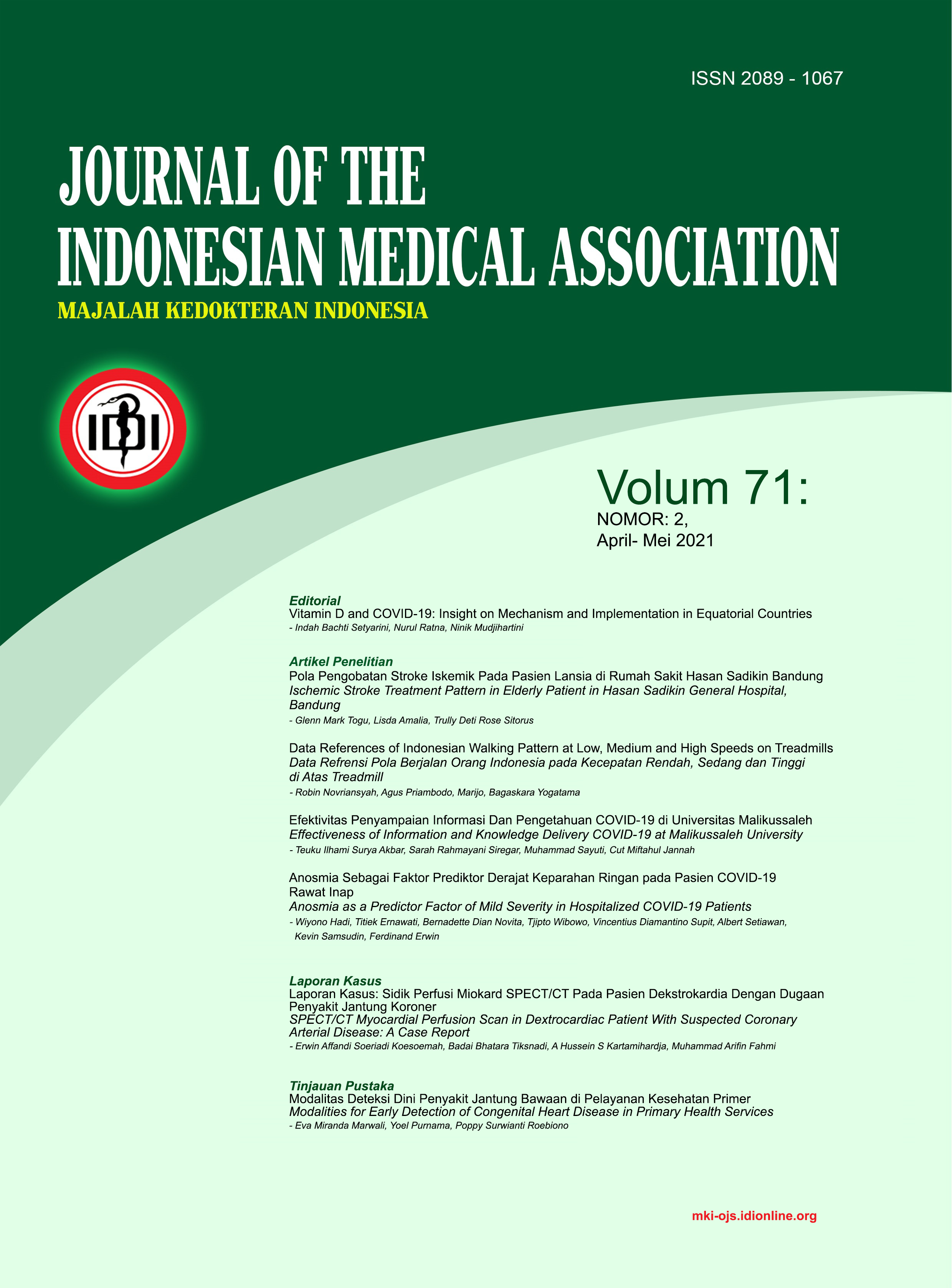 How to Cite
Togu, G. M., Amalia, L., & Sitorus, T. D. R. (2021). Ischemic Stroke Treatment Pattern in Elderly Patient in Hasan Sadikin General Hospital, Bandung. Journal Of The Indonesian Medical Association, 71(2), 65-70. https://doi.org/10.47830/jinma-vol.71.2-2021-387