Early Mobilization in the Intensive Care Unit (ICU) Setting: Literature Review
Dian Marta Sari

Department of Physical Medicine and Rehabilitation, Faculty of Medicine, Universitas Padjadjaran, Bandung

https://orcid.org/0000-0003-2720-4532

Siti Chandra Widjanantie

Department of Physical Medicine and Rehabilitation, Faculty of Medicine, University of Indonesia, Jakarta

Dewi Poerwandari

Department of Physical Medicine and Rehabilitation, Faculty of Medicine, Airlangga University, Surabaya

Anitta Florence Stans Paulus

Department of Physical Medicine and Rehabilitation, Faculty of Medicine, University of Indonesia, Jakarta

Deddy Tedjasukmana

Department of Physical Medicine and Rehabilitation, Faculty of Medicine, University of Indonesia, Jakarta

Nury Nusdwinuringtyas

Department of Physical Medicine and Rehabilitation, Faculty of Medicine, University of Indonesia, Jakarta

Anita Ratnawati

Department of Physical Medicine and Rehabilitation, Faculty of Medicine, University of Indonesia, Jakarta

Hening Laswati Putra

Department of Physical Medicine and Rehabilitation, Faculty of Medicine, Airlangga University, Surabaya
Keywords:
ICU, ICU-AW, Early mobilization
Abstract
Patients in the intensive care unit (ICU) usually have muscle weakness problems that are not related to their primary diseases when admitted ICU. This problem may become a clinical syndrome that we called ICU-Acquired Weakness (ICU-AW). There is currently no specific treatment for ICU-AW, therefore preventing patients from ICU-AW by controlling associated risk factors such as immobility, becoming a critical approach. Early mobilization (EM) has many benefits in the ICU setting for patients with or without mechanical ventilation. Besides that, the realization of EM needs consider the safety criteria and the barriers to their application. Thus, there are guidelines for the realization of EM to give the best outcomes while minimalizing the adverse events.
Downloads
Download data is not yet available.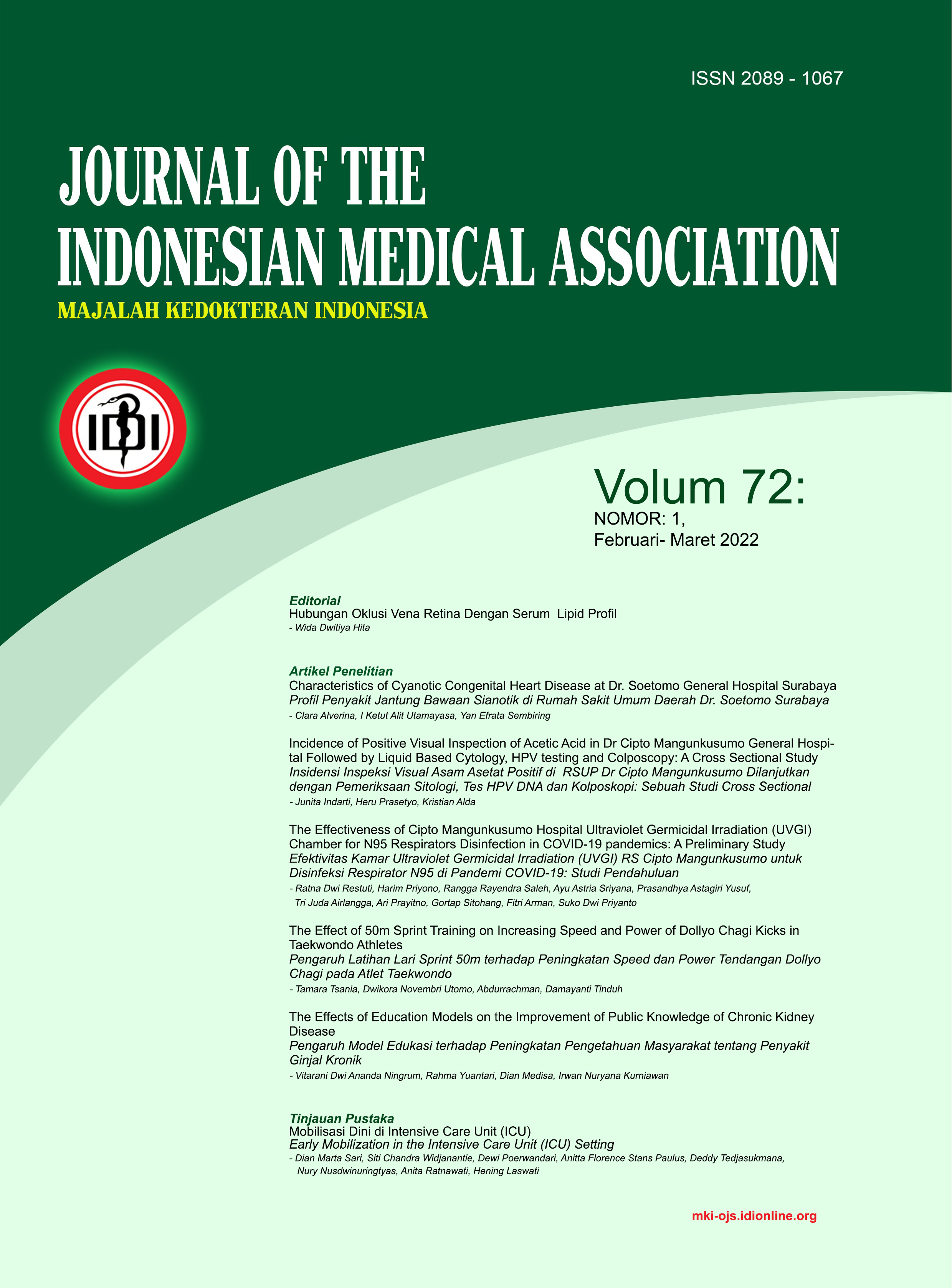 How to Cite
Sari, D. M., Widjanantie, S. C., Poerwandari, D., Paulus, A. F. S., Tedjasukmana, D., Nusdwinuringtyas, N., Ratnawati, A., & Putra, H. L. (2022). Early Mobilization in the Intensive Care Unit (ICU) Setting: Literature Review. Journal Of The Indonesian Medical Association, 72(1), 44 - 55. https://doi.org/10.47830/jinma-vol.72.1-2022-315