SPECT/CT Myocardial Perfusion Scan in Dextrocardiac Patient With Suspected Coronary Arterial Disease
Erwin Affandi Soeriadi Koesoemah

Department of Nuclear Medicine and Theragnostic Molecular, Dr. Hasan Sadikin General Hospital/Faculty of Medicine Universitas Padjadjaran, Bandung, Indonesia

Badai Bhatara Tiksnadi

Department of Cardiology and Vascular Medicine, Dr. Hasan Sadikin General Hospital/ Faculty of Medicine Universitas Padjadjaran, Bandung, Indonesi

A Hussein S Kartamihardja

Department of Nuclear Medicine and Theragnostic Molecular, Dr. Hasan Sadikin General Hospital/Faculty of Medicine Universitas Padjadjaran, Bandung, Indonesia

Muhammad Arifin Fahmi

Department of Cardiology and Vascular Medicine, Dr. Hasan Sadikin General Hospital/ Faculty of Medicine Universitas Padjadjaran, Bandung, Indonesia
Keywords:
Coronary arterial disease, Dextrocardia, Myocardial perfusion scan, SPECT/CT
Abstract
Introduction: Myocardial perfusion scan (MPS) is a non-invasive procedure to evaluate the perfusion, viability, and contractility of the heart muscles. MPS is one of the important modalities using radionuclide in the management of heart disease. Single Photon Emission Computed Tomography (SPECT) is a technology applied to the MPS examination and can be combined with a CT scan.. Dextrocardia is an abnormality in the location and position of the heart, where the heart is located in the right hemithorax and accompanied by impaired perfusion.
Case: We reported a 51-year-old woman, came with chest pain since 2 years. Chest pain appeared mainly with activity, radiates to the back, and sometimes with shortness of breath. Previous echocardiography had shown the heart was located in the right. CT scan examination gave inconclusive results. Patient was referred for an SPM examination on the indication of suspected coronary artery disease (CAD) with dextrocardia.
Discussion: Patients with dextrocardia are at the same risk for developing myocardial ischemia as in the general population. SPM examination can be used to detect CAD in dextrocardia patients.
Conclusion: SPECT/CT MPS could provide functional information and determine the type of dextrocardia in a patient suspected of having CAD.
Downloads
Download data is not yet available.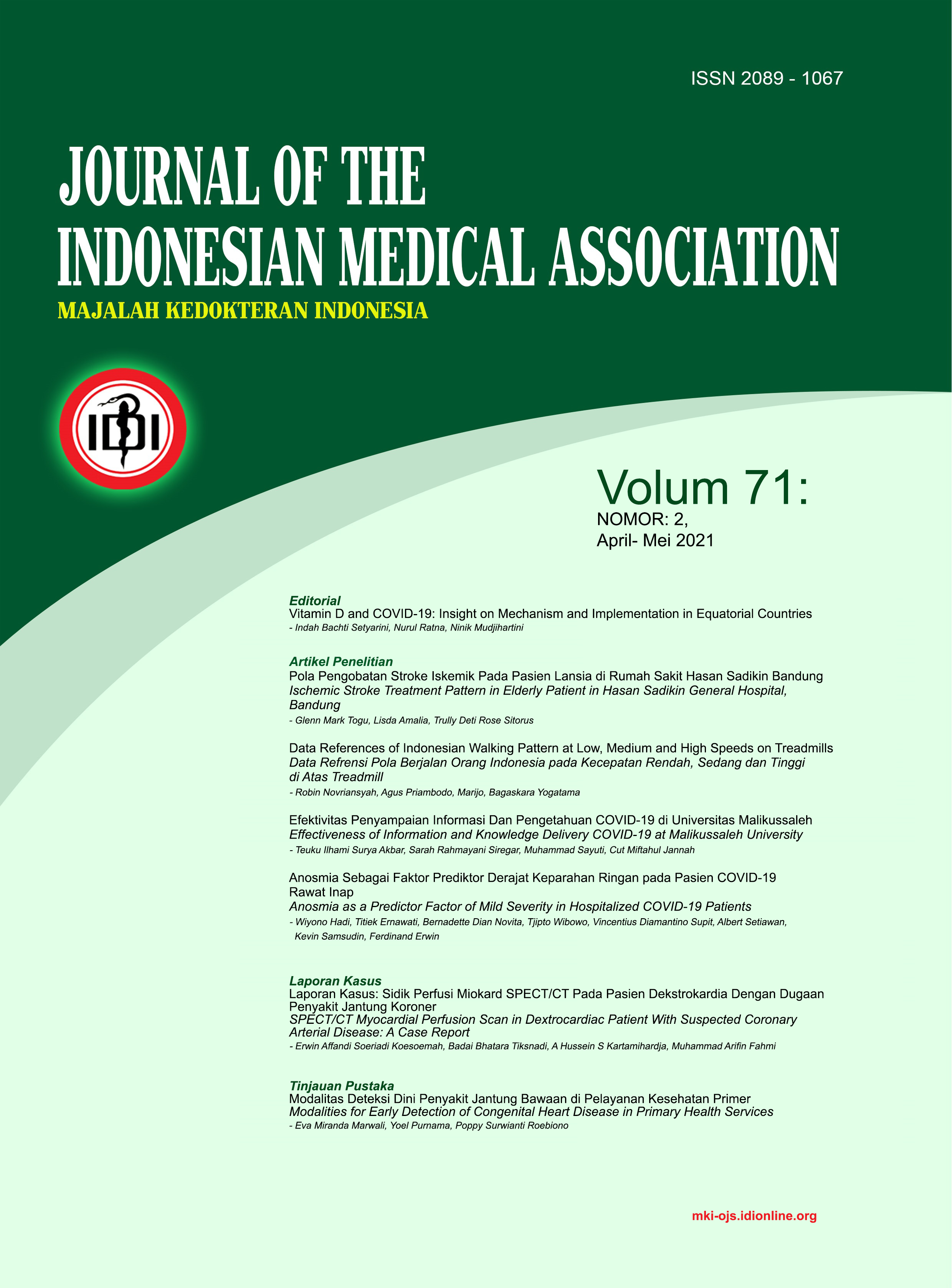 How to Cite
Koesoemah, E. A. S., Tiksnadi, B. B., Kartamihardja, A. H. S., & Fahmi, M. A. (2021). SPECT/CT Myocardial Perfusion Scan in Dextrocardiac Patient With Suspected Coronary Arterial Disease. Journal Of The Indonesian Medical Association, 71(2), 94-99. https://doi.org/10.47830/jinma-vol.71.2-2021-289