Relationship between Age and Activities of Daily Living using Modified Shah Barthel Index on Stroke Patient in Chronic Phase
Malika Sabrina Yunifananda

Departemen of Medical Rehabilitation, Faculty of Medicine Universitas Indonesia-Cipto Mangunkusumo Hospital

Widjajalaksmi Kusumaningsih

Departemen of Medical Rehabilitation, Faculty of Medicine Universitas Indonesia - Cipto Mangunkusumo Hospital
Keywords:
stroke, age, Modified Shah Barthel Index
Abstract
Background: Stroke is the chief cause of long-term disability in the world. Predominantly, the disease is known as a degenerative disease on geriatrics age group, yet several studies have proven that incidence on productive ages are also increasing.
 Objective: The study aimed to know whether there are any difference in Modified Shah Barthel Index (MSBI) score in different age group, geriatric and productive age group and to know independence score in daily activities based on age.
Method: The study utilized the cross-sectional design and analytical observational method. Twenty five samples of chronic stroke patients was recruited and grouped into two groups productive and geriatric age group. MSBI score was calculated and compared between two groups.  
Result: Bivariate analysis proves that there is a significant association between MSBI score and age of stroke patients on chronic phase (p=0.017).
Discussion.  There is a significant association between age and MSBI score on stroke patients in chronic phase.
Conclusion: There was a significance difference between productive and geriatric age with daily activities using MSBI in chronic stroke patients. The productive age group has a higher Modified Shah Barthel Index score than the geriatric age group.
Downloads
Download data is not yet available.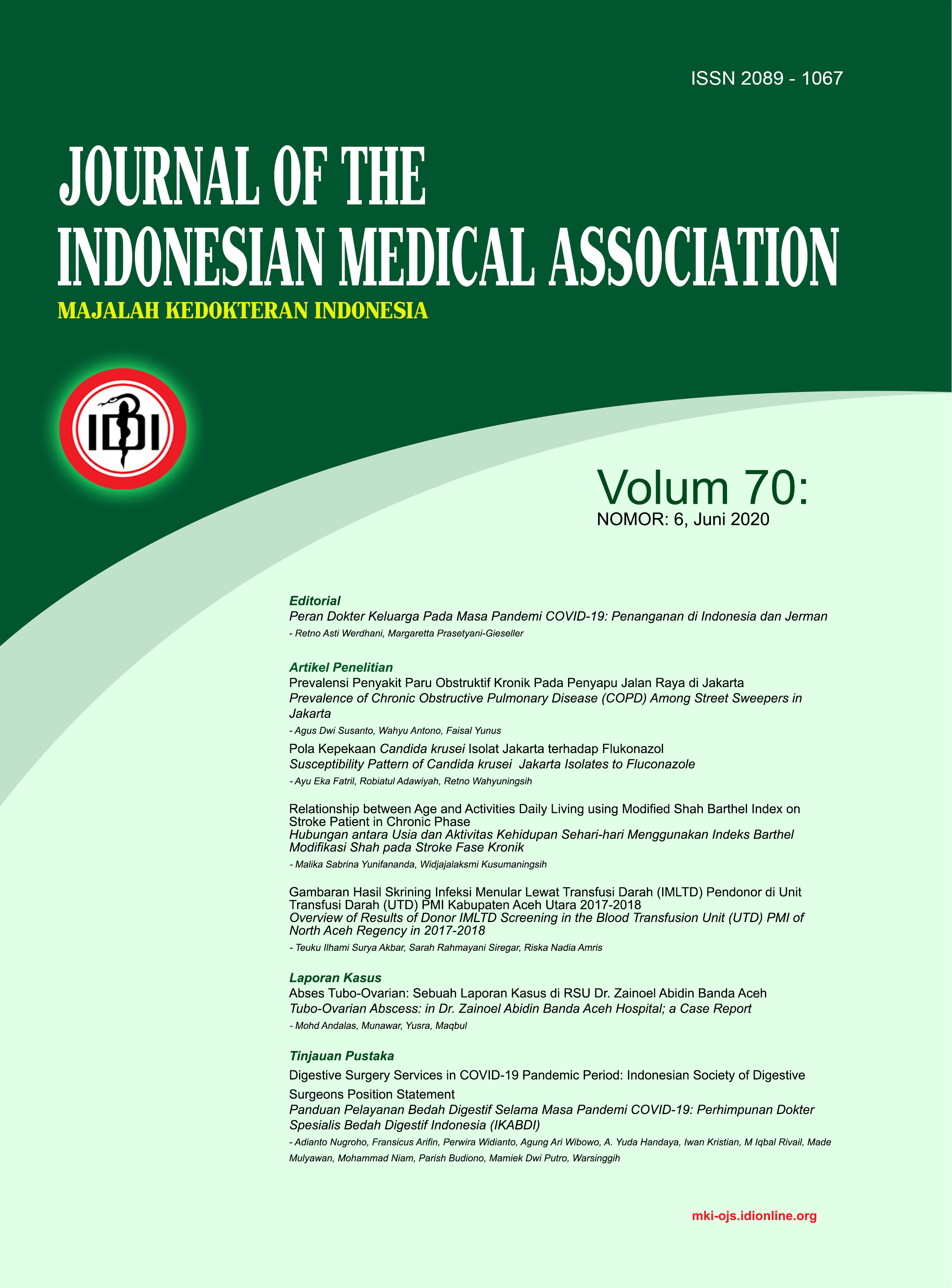 How to Cite
Yunifananda, M. S., & Kusumaningsih, W. (2020). Relationship between Age and Activities of Daily Living using Modified Shah Barthel Index on Stroke Patient in Chronic Phase. Journal Of The Indonesian Medical Association, 70(6), 115-120. https://doi.org/10.47830/jinma-vol.70.6-2020-237