Fatigue Management For Pilots With Physical Activities, Physical Exercises And Sleeping Arrangement
Retno Wibawanti

Department of Community Medicine, Faculty of Medicine Universitas Indonesia

Amilya Agustina

Department of Community Medicine, Faculty of Medicine Universitas Indonesia

Maria Melania Muda

Department of Community Medicine, Faculty of Medicine Universitas Indonesia

Retno Asti Werdhani

Department of Community Medicine, Faculty of Medicine Universitas Indonesia
Keywords:
fatigue, pilots, guideline, activity, exercise, sleeping arrangement
Abstract
Fatigue is defined as a physiological state of reduced mental or physical performance capability resulting from sleep loss or extended wakefulness, circadian phase, or workload (mental and/or physical activity) that can impair a crew member's alertness and ability to safely operate an aircraft or perform safety-related duties. An aircraft incident or accident may arise as a result of an error at an individual level (aviator or other crew), where fatigue is one of the main contributing factors.
The International Civil Aviation Organization (ICAO) has recommended Fatigue Risk Management System (FRMS) to its member States, including Indonesia. This FRMS is a monitoring system and risk factors management related to fatigue-based burnout, which is carried out continuously. In Indonesia, there are currently few airlines that implement FRMS. It takes practical steps to manage fatigue risk factors in the aviator, especially concerning physical activity, activity in leisure or resting time and time management Sleep.
A practical guideline of Fatigue Management for aviators with physical activity, physical exercise and sleeping arrangement is targeted to become a reference to the Fatigue management for pilots, airline management and can be a recommendation for policy stakeholders to become part of the flight safety procedures in Indonesia.
Downloads
Download data is not yet available.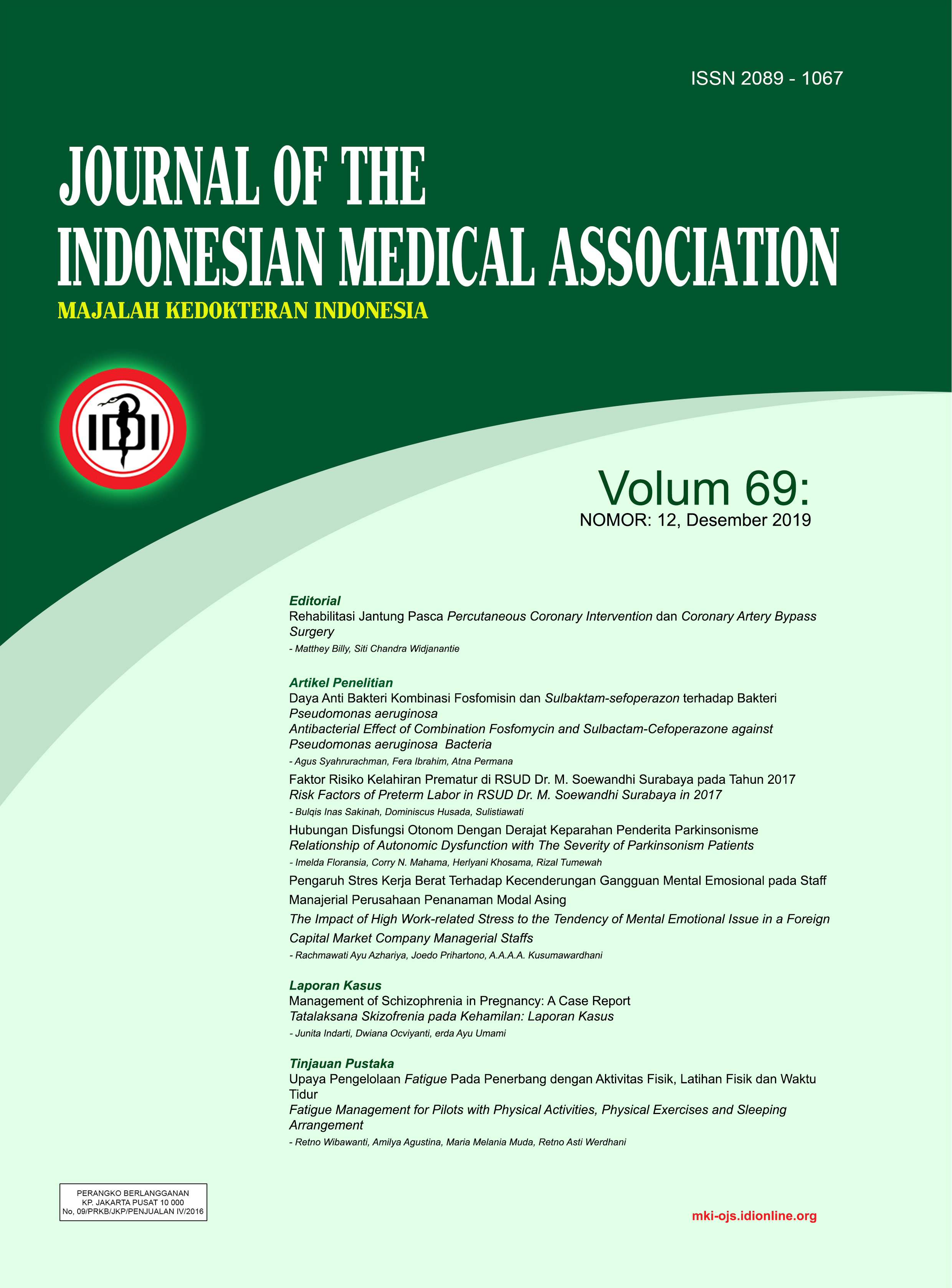 How to Cite
Wibawanti, R., Agustina, A., Muda, M. M., & Werdhani, R. A. (2020). Fatigue Management For Pilots With Physical Activities, Physical Exercises And Sleeping Arrangement. Journal Of The Indonesian Medical Association, 69(12), 373-378. https://doi.org/10.47830/jinma-vol.69.12-2019-169