Hidden Threat During Quarantine and Transition Phase in Elderly: The Need for Special Precautions
Maggie Nathania

Department of Nutrition, Faculty of Medicine, Universitas Indonesia - Ciptomangunkusumo National Hospital

Diana Sunardi

Department of Nutrition, Faculty of Medicine, Universitas Indonesia - Ciptomangunkusumo National Hospital
Keywords:
covid, sarcopenia, frailty, nutrition
Abstract
A global pandemic, COVID-19, has struck 216 countries with more than 9 million cases and 420.000 deaths. In Indonesia alone, 49.000 people have been infected with more than 2.000 deaths. To reduce the transmission rate and break the chain of transmission, various countries in the world require people to limit and mitigate activities outside the house, especially for high-risk groups: the elderly and groups with comorbidities. Although there is no age group protected from SARS-CoV-2 infection, the elderly group shows significantly higher mortality and severity of the disease when compared with young and middle age. Case fatality rate in the elderly ranges between 8% in patients aged ≥80 years, 8% in patients aged 70-79 years, and up to 49% in critical cases. Other studies also show that the average age of patients who need the intensive care unit (ICU) is older than patients who do not require ICU.
Downloads
Download data is not yet available.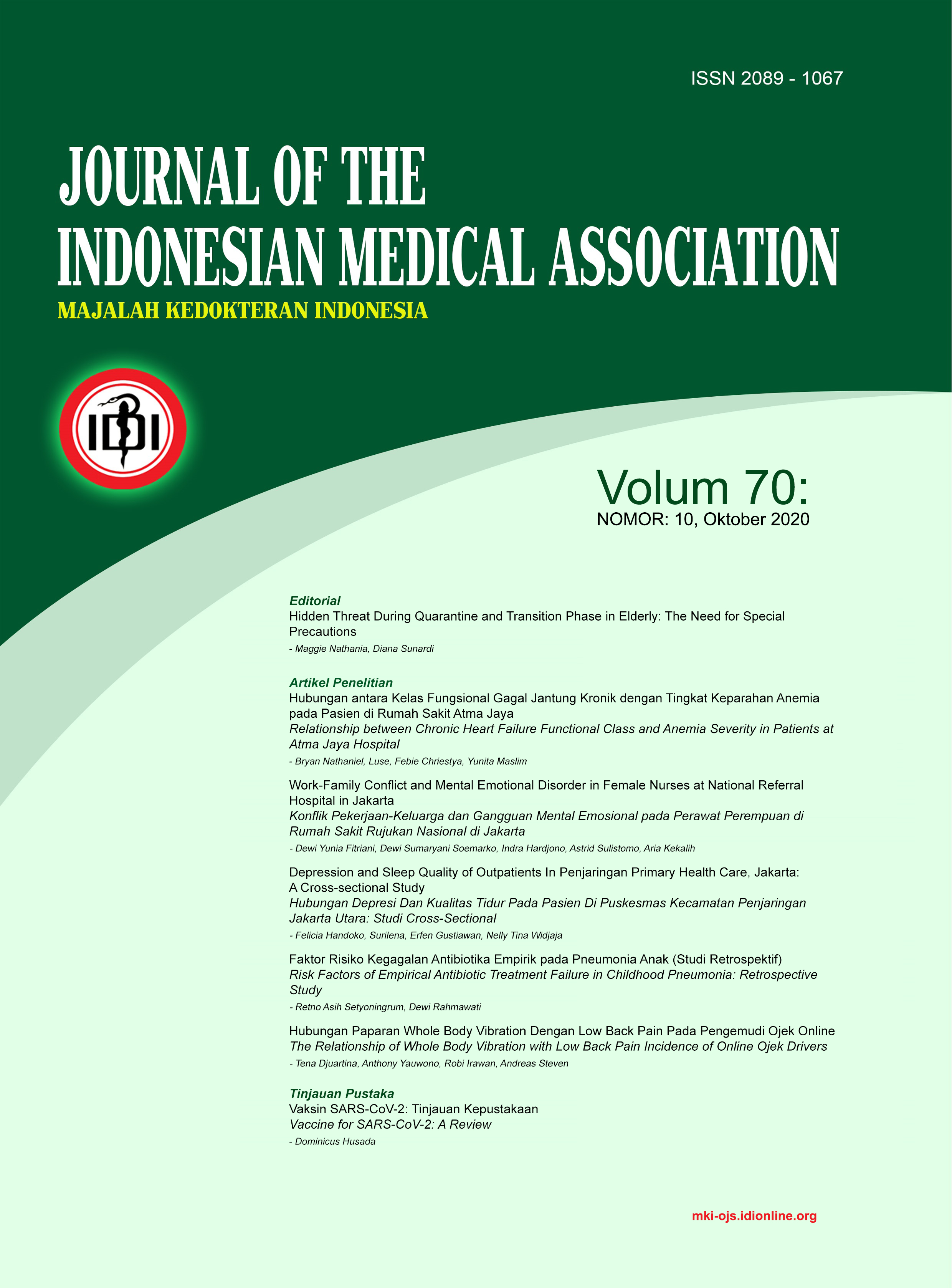 How to Cite
Nathania, M., & Sunardi, D. (2020). Hidden Threat During Quarantine and Transition Phase in Elderly: The Need for Special Precautions. Journal Of The Indonesian Medical Association, 70(10), 190-193. https://doi.org/10.47830/jinma-vol.70.10-2020-292