Comparison of Positive and Negative Syndrome Scale Scores Between Adolescent-Onset and Adult-Onset Schizophrenia
Priskila Gracianita

Universitas Padjadjaran

Veranita Pandia

Psychiatry Departement, Faculty of Medicine, Padjadjaran University/ Dr. Hasan Sadikin Bandung General Hospital

Shelly Iskandar

Psychiatry Departemen, Faculty of Medicine, Padjadjaran University/ Dr. Hasan Sadikin Bandung General Hospital

Mohammad Ghozali

Biomedical Science, Faculty of Medicine, Padjadjaran University
Keywords:
Adolescent-onset, Positive and Negative Syndrome Scale, Schizophrenia
Abstract
Introduction: Adolescent-onset schizophrenia patients cover a small fraction of schizophrenia population, with greater symptoms' degree of severity, affecting patients' quality of life. One of the instruments which measures schizophrenia symptom severity is Positive and Negative Syndrome Scale (PANSS). This study's purpose is to know the demographic characteristic and compare the PANSS scores between adolescent-onset and adult-onset schizophrenia.
Method: This study is a cross-sectional descriptive study done throughout November 2019–February 2020. This study uses secondarily-sourced data from the schizophrenia patients' medical records admitted in Dr. Hasan Sadikin Central General Hospital's in 2018, sampled through total sampling and calculated using Mann-Whitney U test.
Result: Result of this study shows that most adolescent-onset schizophrenia patients are male, middle-level educated, unemployed, and unmarried. Statistically significant difference is not found in total score, positive scale, negative scale, and general psychopathology scale. It is also found that in general psychopathology scale, adolescent-onset patient scored higher than adult-onset patients on "unusual thought content" between the two onsets (p=0,01).
Conclusion: Adolescent-onset in schizophrenia is not significantly different to adult-onset in PANSS score, though it is significant in unusual thought content in general psychopathology scale.
Downloads
Download data is not yet available.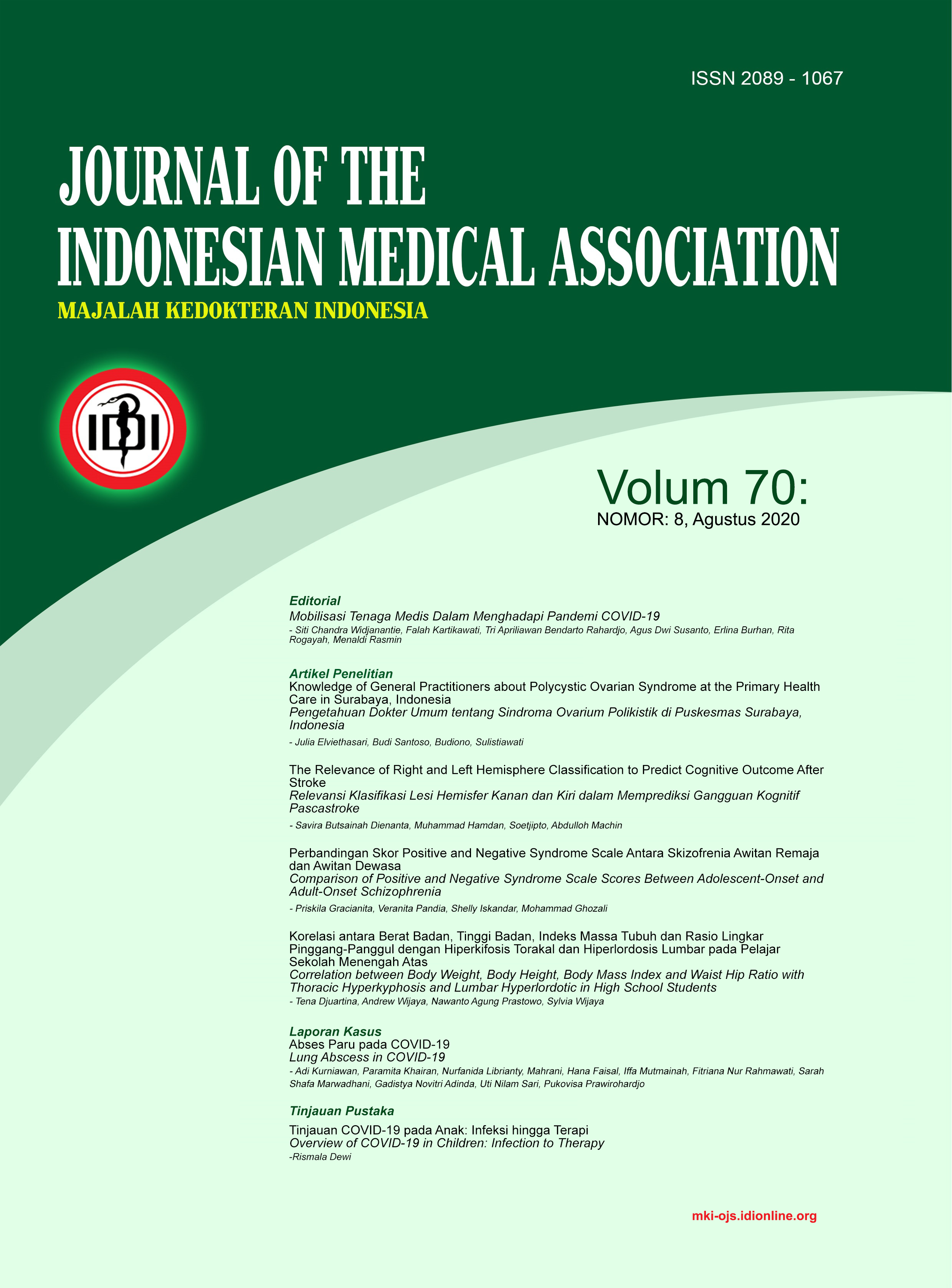 How to Cite
Priskila Gracianita, Veranita Pandia, Shelly Iskandar, & Mohammad Ghozali. (2020). Comparison of Positive and Negative Syndrome Scale Scores Between Adolescent-Onset and Adult-Onset Schizophrenia . Journal Of The Indonesian Medical Association, 70(8), 159-166. https://doi.org/10.47830/jinma-vol.70.8-2020-273