Vaccine for SARS-CoV-2: A Review
Dominicus Husada

Faculty of Medicine Universitas Airlangga, Surabaya, Indonesia
Keywords:
SARS-CoV-2, Vaccine, Pandemic, Clinical trial
Abstract
The pandemic of Systemic Acute Respiratory Syndrome-coronavirus-2 (SARS-CoV-2) could not be stopped until mid-June 2020. The difficulty in finding a panacea for this disease made the vaccine very valuable. At present there are more than 100 vaccine candidates worldwide, with at least 10 have begun undergoing clinical trials in humans. The vaccine at its farthest stage is from the University of Oxford, which has entered phase 3. There are multiple approaches in vaccine research, and some methods have never been used before. Some of the vaccines in the study were originally intended for the previous SARS-CoV and Middle East Respiratory Syndrome-coronavirus (MERS-CoV). The main target in general is the protein spike S. Several obstacles need to be considered, such as the absence of a vaccine for the corona virus, the antibody-dependent enhancement (ADE) mechanism, and the possibility of immunopotentiation. In Indonesia there are 4 teams with vaccine research, and 3 other companies that work with international institutions abroad to directly enter the clinical trial phase 2 or 3. After the vaccine has been found, it is necessary to guarantee equality in gaining access among various countries.
Downloads
Download data is not yet available.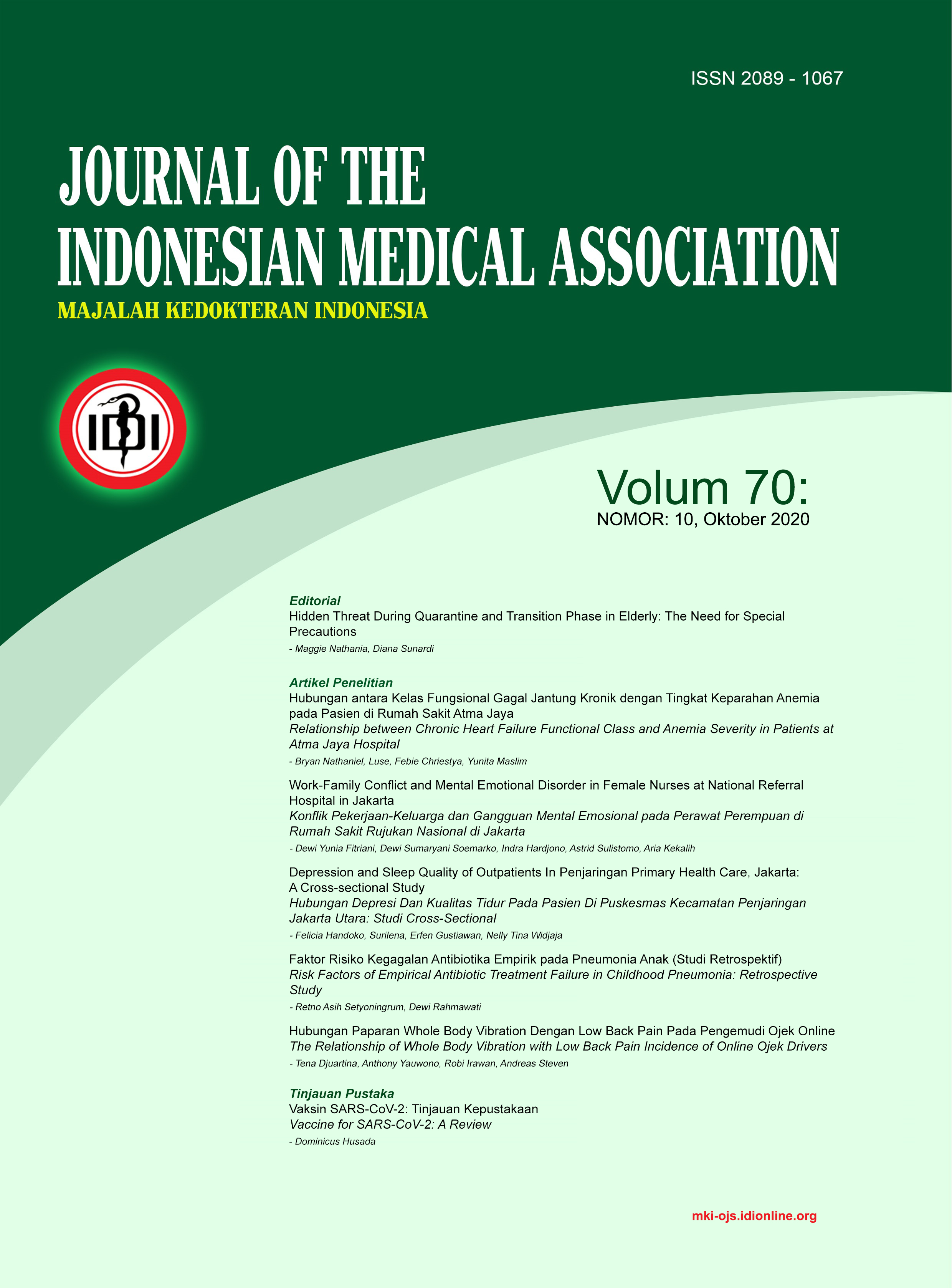 How to Cite
Dominicus Husada. (2020). Vaccine for SARS-CoV-2: A Review. Journal Of The Indonesian Medical Association, 70(10), 228-242. https://doi.org/10.47830/jinma-vol.70.10-2020-254