Laboratory Diagnosis of Malaria
Weny Rinawati

Departement of Clinical Pathology, Faculty of Medicine Universitas Indonesia/Cipto Mangunkusumo Hospital, Jakarta

Fify Henrika

Departement of Clinical Pathology, Faculty of Medicine Universitas Indonesia/Cipto Mangunkusumo Hospital, Jakarta
Keywords:
EIA, IFA, malaria, PCR, RDT
Abstract
Malaria is a mosquito-borne disease caused by a parasite. Rapid and accurate diagnosis of malaria is integral to the appropriate treatment of affected individuals and in preventing the further spread of infection in the community. Left untreated, they may develop severe complications and die. Clinical diagnosis is based on the patient's symptoms and on physical findings at examination. People with malaria often experience fever, chills, and flu-like illness. Clinical findings should always be confirmed by a laboratory test for malaria. Microscopic examination remains the "gold standard" for laboratory confirmation of malaria. Species determination is made based on morphological characteristics of the four species of human malaria parasites and the infected red blood cells. However, many simian species are largely indistinguishable from the four human species by microscopy. Molecular techniques such as polymerase chain reaction (PCR) and microsatellite testing can assist in definitive species determination. An alternate way of establishing the diagnosis of malaria infection are by rapid diagnostic test (RDT), indirect fluorescent antibody (IFA) test and enzyme immunoassays (EIA).
Downloads
Download data is not yet available.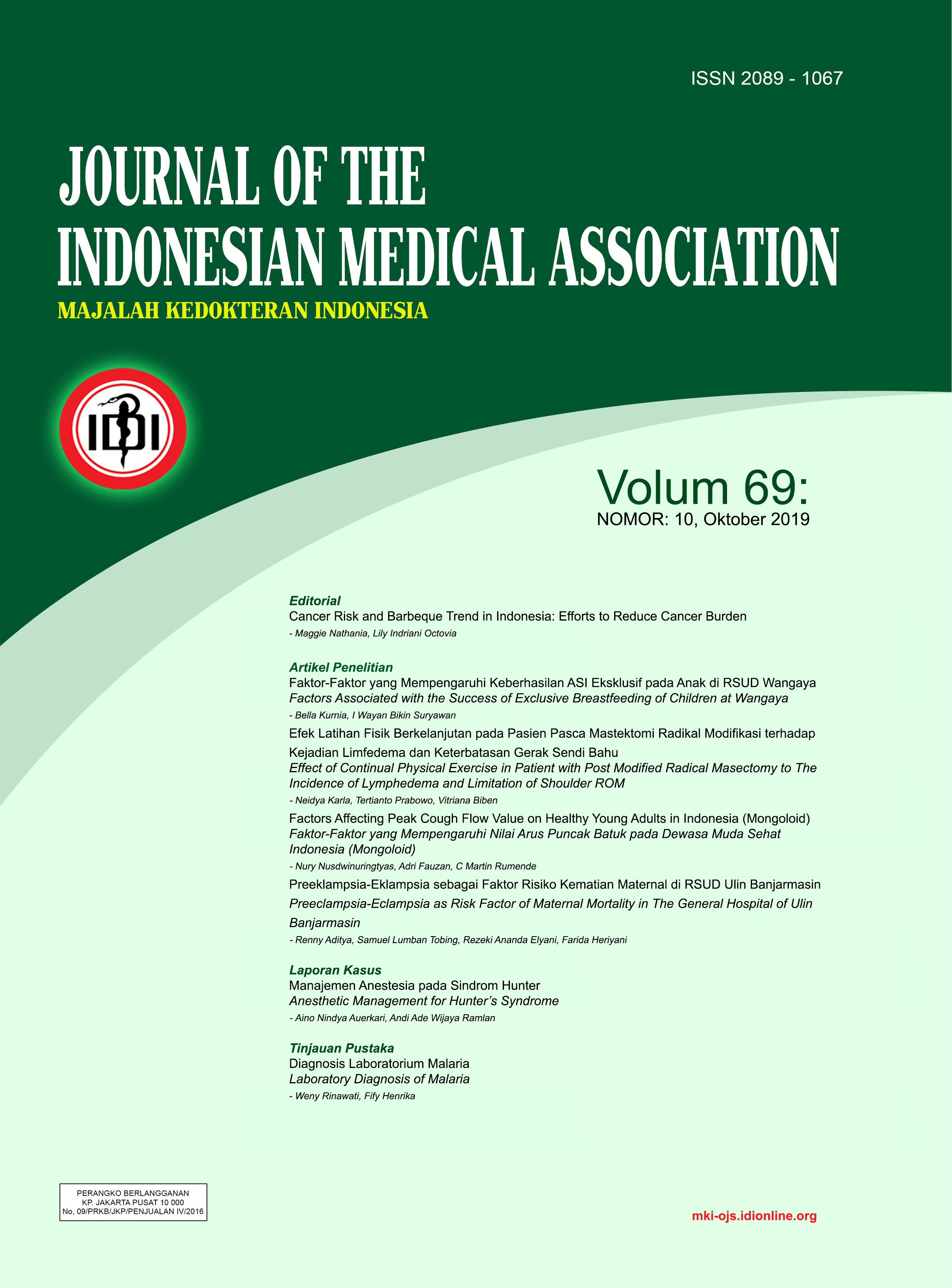 How to Cite
Weny Rinawati, & Fify Henrika. (2020). Laboratory Diagnosis of Malaria. Journal Of The Indonesian Medical Association, 69(10), 327-335. https://doi.org/10.47830/jinma-vol.69.10-2019-183