Lung abscess in COVID-19
Adi Kurniawan

Internal Medicine, Permata Jonggol Hospital, Bogor, Indonesia

Paramita Khairan

Department of Internal Medicine, Universitas Muhammadiyah Jakarta, Indonesia

Nurfanida Librianty

Environmental Health Department Faculty of Public Health, Universitas Indonesia

Mahrani

kasuscovid.id, Jakarta, Indonesia

Hana Faisal

Department of Respiratory and Pulmonology, Faculty Medicine Universitas Indonesia

Iffa Mutmainah

Bogor, Indonesia

Fitriana Nur Rahmawati

Department of Signal Transduction, Research Institute for Microbial Diseases, Osaka University, Osaka, Japan

Sarah Shafa Marwadhani

Bogor, Indonesia

Gadistya Novitri Adinda

Regional Public Hospital of H. Marsidi Judono, Bangka Belitung, Indonesia

Uti Nilam Sari

PT Teknologi Informasi Medimedi, Jakarta, Indonesia

Pukovisa Prawirohardjo

Department of Neurology, Universitas Indonesia, Jakarta, Indonesia
Keywords:
COVID-19, lung abcess, chest tube insertion
Abstract
Objective: COVID-19 is a new emerging disease since December 2019 that later was announced by WHO as a global pandemic. Radioimaging appearance of COVID-19 is varied yet dominantly showed as a ground glass appearance in CT-imaging. Lung abscess in COVID-19 is an extremely rare case, therefore it needs further discussion.
Method: We report a 39 year-old male patient of COVID-19 with lung abscess
Result: This case report describe a COVID-19 patient who showed a very rare clinical manifestation; lung abscess. The patient showed negative result of TB molecular test. Chest tube insertion procedure was performed in this patient who showed an improvement after abscess being drained.
Conclusion: Lung abscess may occur in COVID-19. Abscess drainage procedure may improve clinical condition of COVID-19 patient.
Downloads
Download data is not yet available.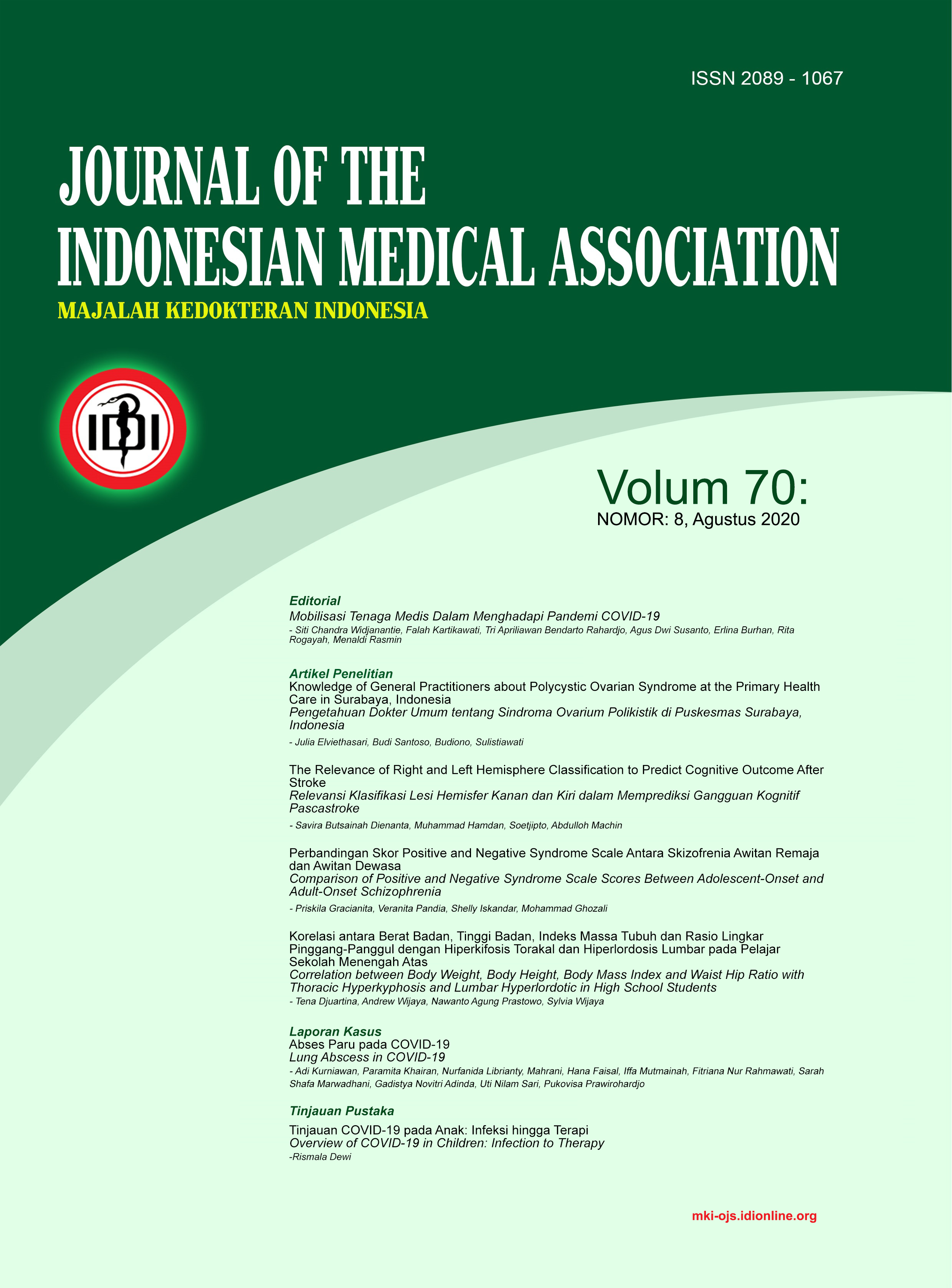 How to Cite
Adi Kurniawan, Paramita Khairan, Nurfanida Librianty, Mahrani, Hana Faisal, Iffa Mutmainah, Fitriana Nur Rahmawati, Sarah Shafa Marwadhani, Gadistya Novitri Adinda, Uti Nilam Sari, & Pukovisa Prawirohardjo. (2020). Lung abscess in COVID-19. Journal Of The Indonesian Medical Association, 70(8), 173-181. https://doi.org/10.47830/jinma-vol.70.8-2020-255